BYU center Sara Hamson (22) hypes up her team talks to his team as the BYU Cougars play the Portland Pilots in the 2022 WCC Women's Basketball Tournament semifinals at the Orleans Arena in Las Vegas on Monday, March 7, 2022. BYU won 59-52. (Kristin Murphy, Deseret News)
Estimated read time: 5-6 minutes
PROVO — Less than a week after losing to Gonzaga in the West Coast Conference Tournament final, the sadness of March made way for the gladness of the Madness.
Put on your dancing shoes, No. 15 BYU; the NCAA women's basketball tournament — officially and legally rebranded to include the March Madness moniker for the first time ever — awaits.
The Cougars drew a No. 6 seed and will face Big East at-large selection Villanova in the first round of the Wichita Regional on Saturday in Ann Arbor, Michigan. The winner will face the winner of No. 3 Michigan and No. 15 American in the second round.
It's the highest seed in BYU women's basketball history; and yet, it also comes with a small shroud of disappointment. The Cougars were ranked in the Associated Press Top 25 for most of the year, held a top-10 NET ranking for just as long, and only lost three times, including once to a Gonzaga team that it beat out twice during the regular season.
All worth it — even if it took a couple extra moments, and an added commercial break from ESPN to enjoy.
"I didn't think I'd be nervous, because I knew we'd be selected. But I was a little nervous," BYU guard Paisley Harding said. "When it comes down to it, it's what we're doing on the day of the game that really matters. I still think we have great potential in this tournament, no matter what seed we're in."
Nothing comes easy for these Cougars, and that includes the NCAA Tournament. If they needed any extra motivation to make a potential tournament run, they certainly got it: a six seed in the Midwest, playing a potential second-round game on the home floor of one of the most historic brands in college athletics?
Highest seed in program history, and still undervalued? It's possible — and if nothing else, it provides another chip for BYU players to proudly wear across their shoulders.
"Losing the game Tuesday afternoon (to Gonzaga) is more upsetting than feeling if they were a five seed or a six seed," BYU coach Jeff Judkins said. "They wanted to win everything in our conference this year; I told them to be selfish, and to get everything we can. So I think that bothers them the most.
"They might have thought we'd be five. But we're in a good position, a position that we can win these games and that's really all that matters to them."
Villanova (23-8) is a known commodity in women's basketball, the second-best team in the Big East after its 70-40 loss to UConn in the tournament final. But in retrospective, the Cougars and Wildcats have met just once previously, a 61-58 neutral-site win by the Pennsylvania side in 1995.
That's a story for another day, though. For now, the Cougars had to get to that matchup.
Watching in a private watch party Sunday evening in the Marriott Center surrounded by friends, family and coaches, BYU took cautious optimism into a Selection Sunday where the Cougars didn't officially control their own destiny, courtesy of the Zags' 71-59 win in Las Vegas that punched the Bulldogs' ticket for the second year in a row. Never in doubt, the team still felt butterflies — even false-leaping in anticipation several times before they finally saw their name appear in the bracket.
Bracket by bracket, BYU waited, anticipating its expected inclusion. There were moments when the Cougars thought they might hear their name — even a couple of moments of false reaction. But still, the wait continued — all the way until the final regional, Wichita, and the final draw of the Selection Show on ESPN.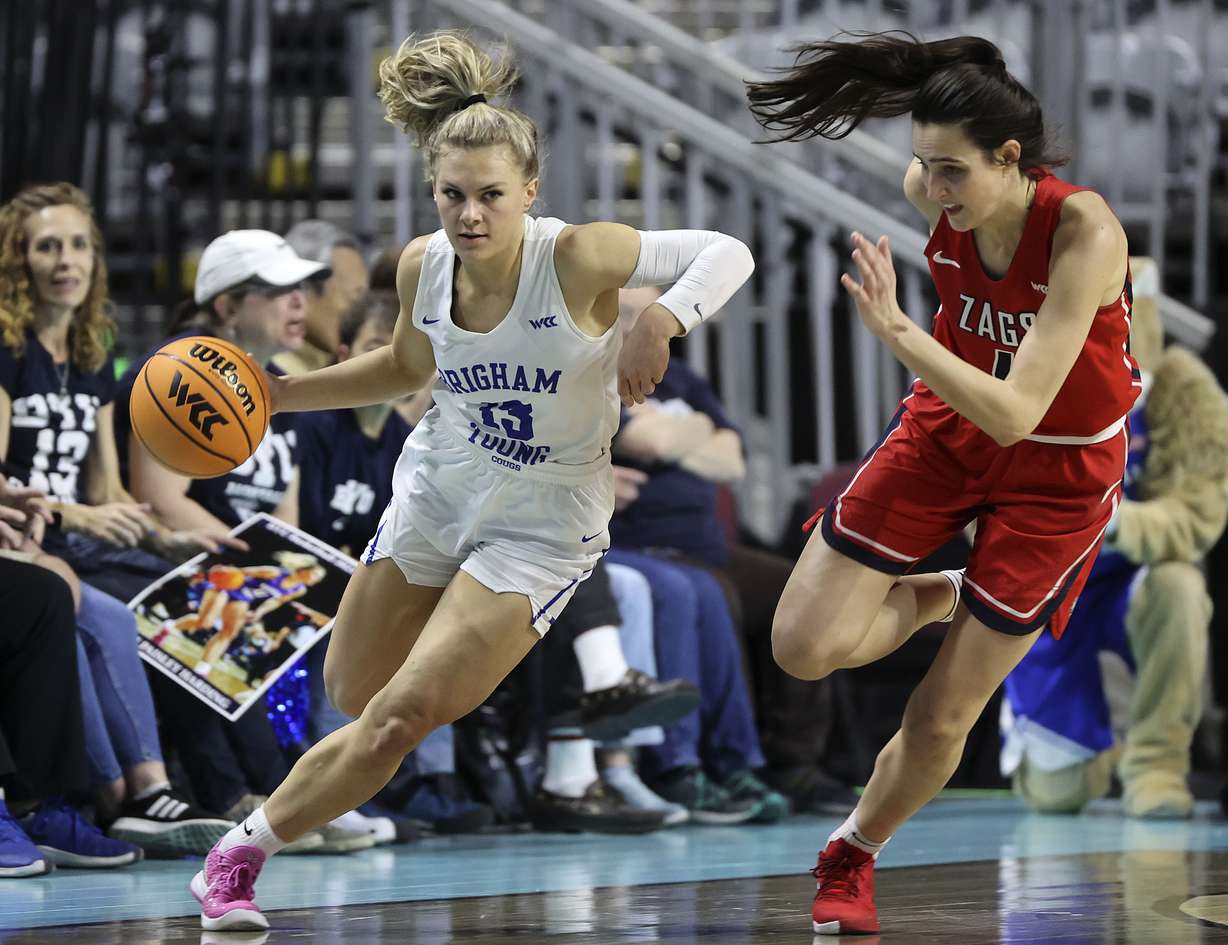 The lower value continues. The chippiness continues.
"I think we're a great team, super talented across the board," Harding said. "I think this chip that we'll go into this tournament is great. We can hit a new high with it.
"We know how good we are; we've only lost three games. If we vote our confidence on losing just one game, I think we have bigger problems."
Indeed, it would be hard to keep out a team that ranked No. 11 in the NCAA's final NET rankings, one that flirted with a top-16 overall seed in the selection committee's first two look-ins sprinkled throughout the season. It would be nearly impossible to deny a bid to the Cougars, who finished 26-3 with a perfect 14-0 record at home. BYU boasted wins over Arizona State, Florida State, West Virginia and Washington State, to say nothing of sweeping regional rivals Utah, Utah State and Boise State.
In all, the Cougars were 5-1 against teams from the Power Six conferences, with the only blemish a 99-91 overtime setback at Oklahoma back on Dec. 10. They nearly ran unbeaten through the West Coast Conference, too, sweeping the regular-season series with Gonzaga and avenging a regular-season loss to Portland with a 59-52 win in the WCC Tournament semifinals.
It would've been difficult to leave out BYU. But stranger things have happened.
Instead, the Cougars will head to Ann Arbor, armed with a second-team All-American by The Athletic and two-time West Coast Conference Player of the Year Shaylee Gonzales, who averages 18.7 points, 5.9 rebounds, 4.3 assists and 2.3 steals per game.
The Becky Hammon Mid-Major Player of the Year finalist also has a superb supporting cast, including fifth-year senior Harding, who averages 17.0 points, 3.3 rebounds and 2.5 assists per game along with approximately a bazillion charges taken per 40 minutes; and Lauren Gustin, the finalist for the Katrina McClain Power Forward of the Year award who averages 10.8 points and 11.5 rebounds per game with a WCC-high 11 double-doubles.
"I have have however many games we play left in my college career," Harding said. "I'm going to go live in the moment and be a part of that, be with my teammates. I don't think we need to hype up the games, and get our nerves crazy.
"We've played in tough games. We've beat a lot of Power teams this year. Going into it, we're going to hit really good teams in the tournament — but I don't think it's anything we haven't seen before."
×
Related Stories
More stories you may be interested in