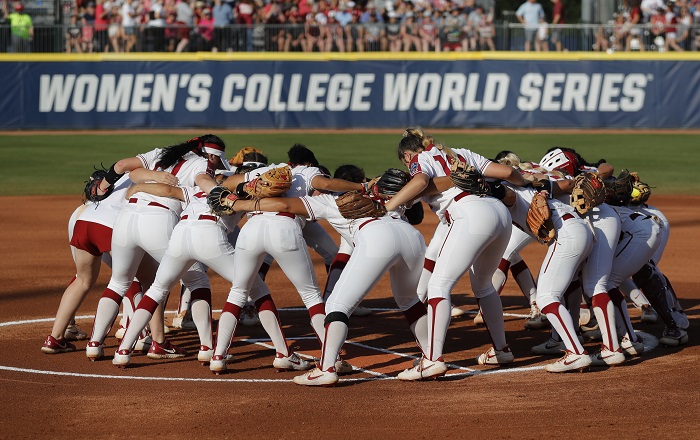 Conference play started this weekend in the Big 12 and a clear-cut hierarchy was established as the top three teams in the conference dominated their opponents.
Oklahoma, Oklahoma State, and Texas all secured sweeps of Baylor, Texas Tech, and Kansas respectively, leaving little doubt along the way.
Iowa State, who has been wildly inconsistent this season, was the only team to not play in conference this weekend but instead faced future Big 12 foe BYU. Unfortunately, the Cyclones were swept in that series, leaving more questions than answers as to where they fit in the conference.
Since we have one weekend of conference games under our belts, here are our Big 12 Softball power rankings.
The lone undefeated team in the country resides in the Big 12, and is right at the top of our list. Oklahoma is dominating the sport in ways that haven't been seen before. Currently, the Sooners lead the country in ERA (.73) and batting average (.390) along with several other statistical categories. Even more ridiculous is the Sooners' run ratio, which now stands at 279:25. Right now, it's hard to imagine them losing a game, although Baylor was awfully close to pulling it off on Sunday before Tiare Jennings ripped a three-run walk-off homer over the center-field wall. Oklahoma is rolling right now and that trend is likely to continue.
I'm going with Oklahoma State here, but it was closer than I thought it would be at this point. The Cowgirls were impressive this weekend against Texas Tech, who came into Stillwater riding a nine-game winning streak. OSU won 7-0, 9-1, and 16-2 in the series and looked as good as they have all season. OSU hasn't lost back-to-back games since February 19th, and has a record of 19-2 since then. This Oklahoma State team is capable of being the second-best team in the country. I said that before the year started and I stand by it. Now, can they prove me right?
The Longhorns are on the verge of reaching white-hot as they head into the second weekend of conference play. UT has won 10 in a row, and if not for a tie with Minnesota the streak would be at 15 games. Texas scored at will against Kansas this weekend, tallying 27 runs in three games and looked dominant after a close 7-6 win on Friday. Hailey Dolcini and Estelle Czech continue to keep the bullpen afloat while Shea O'Leary figures things out, but if she starts to click and Texas keeps scoring runs like this, watch out.
There is a substantial gap between three and four, but Baylor is fourth in our power rankings for a couple of reasons. First, they just took a 1-0 lead over Oklahoma into the seventh inning; that's not something that anyone else can claim. Sure, Oklahoma has been in a couple of close games, but Baylor had them on the ropes before Tiare Jennings bailed the Sooners out. Secondly, Baylor has one of the best non-conference wins in the Big 12: a 3-0 victory over No. 12 Oregon. The next team on the list may have a better winning percentage, but I believe Baylor is a better team right now.
Iowa State should be in the four-spot, but a bad showing in Provo, Utah, dropped them one spot. Mikayla Ramos is one of the better batters in the entire country, but she can't do this by herself. The pitching staff needs to be better if Iowa State is going to make any noise in this conference, and to this point, they haven't been consistent enough to win big games. This team has been on the verge of breaking out for weeks it seems, but for every step they take forward, they take two back. The Cyclones have been competitive against UCLA, Washington, and UCF, all teams that have spent substantial time in the Top 25. However, an unranked BYU team just dismantled them, sending them back to the drawing board with Texas knocking on the door.
I thought Texas Tech had changed their stripes, and boy did Oklahoma State ever prove me wrong. The Red Raiders had quietly built a nine-game winning streak before getting steamrolled by the Cowgirls. Tech has a win over No. 6 Northwestern to hang its hat on, but not much other than that. The way that TTU was dominated in Stillwater this weekend gives me reservations about this team being at .500 at year's end. There's still a lot of softball to be played, but most of it is against teams that are flat better than Texas Tech has been to this point.
The Jayhawks are spiraling and have now lost 14 of their last 17 contests. Things looked promising on Friday when KU collected nine hits and six runs to take texas to the brink, losing 7-6. However, after that it looked like the Jayhawks were overmatched, losing 9-2 and 11-2. Kansas will play a ranked Missouri squad on Wednesday and will then head to Lubbock for a three-game series with Texas Tech. They'd better find a way to turn things around because the current trajectory is heading in the wrong direction.