BYU receiver Gunner Romney runs after a catch during BYU spring football practice, March 14, 2022 in Provo. (Jaren Wilkey, BYU Photo)
Estimated read time: 6-7 minutes
PROVO — It's no secret the focal point of BYU's offense last year was Tyler Allgeier, the electric former walk-on running back who catapulted himself into the school's record books and made himself a forthcoming NFL paycheck with back-to-back 1,000-yard seasons, carrying the Cougars to a 21-4 record in the process.
His will be a huge hole to fill in BYU's backfield, with Cal transfer Christopher Brooks and returning tailback Lopini Katoa the most likely contributors.
But look closely and you'll remember a group of guys who made plays on the perimeter, too. And most of them are coming back next year.
Whether it was Puka Nacua high-pointing the ball, Gunner Romney coming down with a deep route near the 1-yard line, or Keanu Hill turning his late-season opportunity into yards-after-reception, BYU's wide receiver room was deep in 2021.
And the best part about it? They're mostly coming back this year for the final season of the FBS independence era beginning Sept. 3 at South Florida.
As the calendar flipped to the midway point of spring camp Monday — seven practices in, seven to go, in front of a triple-digit crowd of potential recruits that included most of the football team from Layton Christian Academy — the game is looking more and more like … well, football. The pads are on, the tackling is real, and the Cougars even saw some live work to the ground Monday — when "the defense caught up real quick," head coach Kalani Sitake.
There was little catch-up for the wide outs, though. Just progression.
The Cougars return all but two receivers from last year — only Neil Pau'u and Samson Nacua elected to graduate and move on from the program. But Nacua, Romney and Hill lead a group of newcomers, including the once-hyped Mater Dei (Calif.) product Kody Epps and former American Fork star Chase Roberts, that should surround starting quarterback Jaren Hall with plenty of weapons.
Talk of the returning receivers probably should start with Romney, who caught 34 passes for 594 yards and three touchdowns a year ago in what he initially thought would be his final season with the team. But injuries hampered his season, playing in just 10 of the Cougars' 13 games, and a chance at rewriting the finish to his script brought him back for one more go-around.
"It's not a little decision, but a decision that could affect the rest of your life," said Romney, whose brother Baylor retired from football in the offseason. "I decided to come back because it's another year to get my degree, another year to further my development and to help me with my future playing football. I figured it was my best decision, all-around."
Having a new "locker buddy" with his brother taking a job at Adobe was weird at first. But coming back to a wide receiver room like the one Romney found awaiting him with open eyes eased the return, as well.
"That receivers room is stacked, especially some of the younger guys stepping up in camp," said Romney, who traded in his brother for Epps next to his locker. "Everybody is performing right now; I think we have a really solid group.
"I don't think there's a dude in the receiver room who hasn't impressed me so far. There are so many dudes that have stepped up and made plays."
Through two weeks of spring ball, the receivers are already making up for lost time, too.
"We don't really have any new faces this spring," said Nacua, the younger brother of Samson Nacua and 2018 Gatorade Utah Player of the Year who starred at nearby Orem High before initially signing with Washington. "It's super nice to feel comfortable; there's a standard we've set in the room, and it's a standard to hold accountability for what we don't do right and to build on the things we've already done right."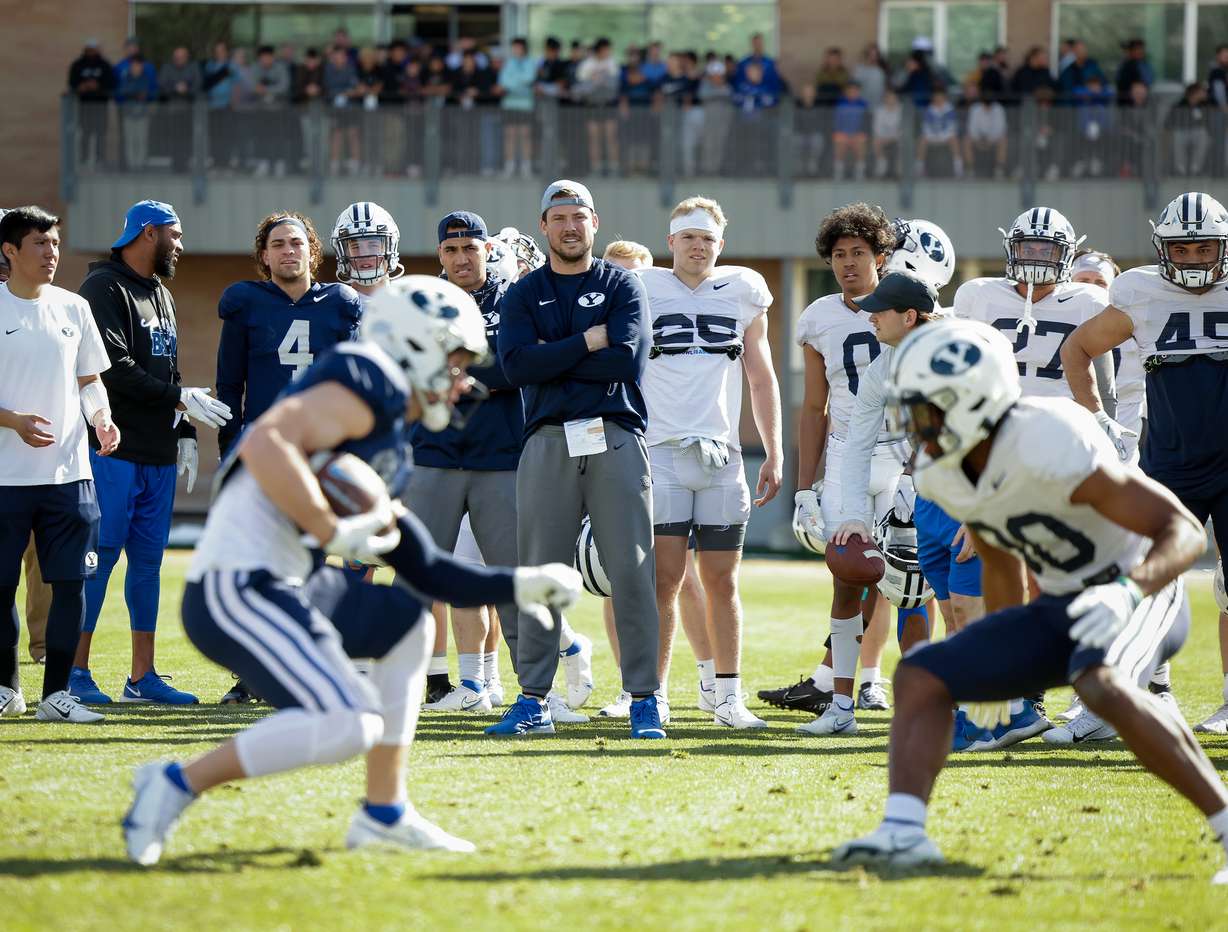 That comfort includes Nacua, who led all receivers with 805 yards and six touchdowns a year ago (Pau'u also had six touchdowns, but on 46 receptions for 526 yards). At this time a year ago, Nacua was still in the middle of a transfer from the Pacific Northwest and returning to his hometown, where he cited "family" as his reasons for wanting to be closer to his mother, younger siblings and an ailing grandmother.
A year later, Nacua is fitting in as a seasoned leader with the offense, catching balls and making plays while running with starting quarterback Jaren Hall and the ones — and doing all the little things to make himself a great teammate amongst his peers, Sitake added, in a particularly deep wide receiver room.
"The Nacuas love being in the spotlight, and this field is his spotlight, his element," Sitake said. "I think any time any a Nacua wants to make plays, he will.
"But he makes a bigger statement trying to help the team culture and everything else. He makes plays, but he also does a lot of things on the side that a lot of people don't see, as well."
Now entrenched in the Cougars' program as well as academic life on a campus where he grew up just over a block away, Nacua is sliding into the comfortability of his teammates — both on the field and off it.
Whether it's in the weight room or in Call of Duty parties at a teammate's home — Nacua says he prefers Madden and NBA 2K, but he'll play CoD with the rest of them — there's no lack of competition.
"Just being able to spend time with the guys and to get to know them more is good," he added. "Building on all the relationships I built last year is great."
Ditto for Epps, the 5-foot-11 speedster from Los Angeles who sat out the 2021 season after injuring the sesamoid bone in his foot against Coastal Carolina in 2020 — essentially cracking the ball of his foot in half, an injury that required surgery and at least six months of recovery.
And with the departures of Pau'u and Samson Nacua, who caught 29 passes for 329 yards and three touchdowns a year ago, there's just enough competition to work in some of the new additions.
"I think it's a great opportunity for all of us to compete, but also push each other at the same time," Epps said. "It's definitely a big role we need to fill with those two guys leaving. I definitely want to be a part of that mix filling those shoes.
"But it's a great chance for all of us to help each other out and to move forward in that position."
Epps played in six games as a true freshman in 2020, catching five passes for 47 yards in wins over teams ranging from Boise State to Louisiana Tech to FCS North Alabama before his injury.
With two complete feet and full recovery time, he's excited to see what more he can do — when he gets the opportunity behind the rest of the deep receiving corps.
"I'm just trying to get on the field and do what I need to do to help my team win," he said. "The last couple of years have been rough, watching from a distance.
"My biggest thing is just doing the best I can to be on the field, to be healthy, and to be ready to go."
×
Photos
Related Stories
More stories you may be interested in