4 hr 42 min ago
US lawmakers blast Biden administration for decision on not transferring aircraft
From CNN's Lauren Fox
US Senate Republicans and Democrats blasted the administration for not acting immediately to help in the transfer of aircraft to Ukraine, a sign of daylight emerging between Congress and the White House on Ukraine after weeks of unity on Capitol Hill. 
Members on both sides of the aisle during a Foreign Relations Committee hearing this morning challenged the administration about why the US isn't helping facilitate planes to Ukraine that Ukrainian President Volodymyr Zelensky has said are desperately needed. They warned that Congress may take further action on banning Russian energy imports that go beyond what was passed by the House of Representatives and is backed by President Joe Biden's administration. 
"It's not clear why we are standing in the way," Sen. Jeanne Shaheen, a Democrat from New Hampshire, told CNN about the US's position that it would not be appropriate to send Poland planes so that Poland could transfer their planes to Ukraine. 
Over the last several days, members have come to believe that Defense Secretary Lloyd Austin and Secretary of State Antony Blinken share differing views on how to handle a potential transfer of aircraft to Poland that would facilitate Poland to transfer planes directly to Ukraine, a difference that has enraged some members on Capitol Hill who have come to see the administration itself as fracturing.
Sen. Jim Risch, the top Republican on the Foreign Relations Committee, told CNN it was an "embarrassing" division. 
"The first branch of government is almost unanimous on this. I don't know who is against this up here, but it's embarrassing for the second branch of government to be divided. This is a job for the President of the United States. He needs to step up. Knock heads together and get everybody in the same place," Risch said. "We really need to do that. This is a matter of life and death." 
Risch said the Pentagon's explanation that a plane transfer could be perceived as escalatory by the Russians is "nonsense."
"We're taking their yachts, we're taking their vacation properties, we are giving the Ukrainians all the arms we can give them. It is foolish to say this is somehow going to aggravate them more. That's nonsense," he said. 
GOP Sen. Rob Portman, who has been outspoken on this issue, told CNN that he believed that it was not the Biden administration's place to be making decisions for Ukraine on what their military strategy should be and if they wanted planes, and the US needed to do everything in its power to help them. 
"The administration just told us they think Ukraine needs other things more and would be more effective in the battlefield. In theory, that means that you have the United States government deciding what the military strategy should be for Ukraine," Portman said. "Ukraine wants planes. They have made a decision."
Some Democrats, however, argue that Congress should give the administration more room to make the decisions for how they want to approach this conflict without "micromanaging."
"I generally trust the administration's decision making," Sen. Chris Murphy, a Democrat from Connecticut, told CNN. "I think this is a time when we should get behind the administration rather than constantly second-guessing."
3 hr 17 min ago
Humanitarian situation in Mariupol is "increasingly dire," International Committee of the Red Cross says
From CNN's Sharon Braithwaite in London
The humanitarian situation in Mariupol is becoming "increasingly dire and desperate," the International Committee of the Red Cross (ICRC) said Thursday.
The ICRC warned that "hundreds of thousands of people have no food, water, heat, electricity, or medical care," and said that "people urgently need respite from violence and humanitarian aid."
"All the shops and pharmacies were looted four to five days ago. Some people still have food but I'm not sure for how long it will last," said Sasha Volkov, the ICRC's deputy head of sub-delegation, in an interview recorded Wednesday and published on the ICRC website. 
"Many people in Mariupol have reported having no food for children," Volkov said.
"People started to attack each other for food. People started to ruin someone's car to take the gasoline out," Volkov continued. 
Medicine is also starting to run out, "especially for diabetes and cancer patients," Volkov said, adding that there is no way to find it in the city. Hospitals are partially functioning because the city council delivers fuel, Volkov added.
5 hr 20 min ago
Biden says costs that US is imposing on Putin are "far more devastating than the costs we are facing"
From CNN's Betsy Klein and Lindsay Isaac
US President Joe Biden reacted to news Thursday that consumer prices have soared over 7.9% over the last 12 months, suggesting the new consumer price index report reflected the pinch Americans are feeling due to the Russian invasion of Ukraine. 
Biden cast blame on Russian President Vladimir Putin and his country's invasion for the rising prices, but said the costs the US has imposed on Russia in response are "far more devastating" than the costs Americans are facing at home. 
"Today's inflation report is a reminder that Americans' budgets are being stretched by price increases and families are starting to feel the impacts of Putin's price hike. A large contributor to inflation this month was an increase in gas and energy prices as markets reacted to Putin's aggressive actions," Biden said in a statement. 
He continued: "As I have said from the start, there will be costs at home as we impose crippling sanctions in response to Putin's unprovoked war, but Americans can know this: the costs we are imposing on Putin and his cronies are far more devastating than the costs we are facing." 
He pointed to efforts to bring prices down, including a release from the strategic petroleum reserve, and other actions the administration is taking to strengthen supply chains and promote competition.  
What Putin is saying: The Russian president has claimed Western nations that have taken "unfriendly steps" toward Moscow are trying to blame Russia for their own mistakes and are deceiving their own populations. Sanctions that have been imposed against Russia are illegitimate and would have happened regardless, he said. 
"They point to the sanctions that they impose against us as the reason for the deterioration of their situation. It is very strange, despite the fact that we fulfill all our obligations," Putin told a meeting of his government ministers in Moscow. 
Russia is fulfilling its obligations on energy exports, he said, and blamed inflation on bans on Russian oil.
"Their prices are rising, but it is not our fault. This is the result of their miscalculations. Nothing to blame on us. They are trying at all costs to reach an agreement with countries against which they themselves have imposed illegitimate restrictions. The same will happen in relations with our country, I have no doubt about that," he said.
Putin added that with Russia and its partners, "those who do not recognize these illegal actions," together will "certainly find solutions to all the problems that they are trying to create for us."
Putin acknowledged that sanctions will bite, but Russia has weathered such problems in the past. "The markets will gradually re-direct themselves and will understand that there are no such problems that we could not solve." 
He also warned that food prices will rise if international economic pressure on Russia continues because it is a major global supplier of fertilizer.
5 hr 26 min ago
IMF chief says Africa is "particularly vulnerable to impacts from the Ukraine war"
From CNN's Chris Liakos
International Monetary Fund Managing Director Kristalina Georgieva said the war in Ukraine comes "at a delicate time for Africa," which is particularly vulnerable to economic aftershocks.
"Africa is particularly vulnerable to impacts from the Ukraine war through four main channels—increased food prices, higher fuel prices, lower tourism revenues, and potentially more difficulty accessing international capital markets," Georgieva said in a statement published on Thursday.
Georgieva urged the international community and African policymakers to come together to address policy responses.
"Redoubling efforts to advance reforms that further promote resilience is a priority for many countries. At this difficult moment, the Fund stands ready to help African countries address the repercussions of the war, and to help design and implement reforms through our policy advice, capacity development, and lending. Recent reforms to the Fund's lending toolkit provide greater flexibility to help meet financing needs," she said.
More background: Russia and Ukraine are key players in the global agricultural trade, with both nations accounting for a quarter of the world's wheat exports, including at least 14% of corn exports in 2020, and a joint 58% of global sunflower oil exports in the same year, analyses show.
Trade between African countries and the former Soviet neighbors, especially Russia, has flourished in recent years with Russian exports to the continent valued at $14 billion annually, and imports from Africa pegged at around $5 billion per year.
But parts of Africa could be plunged into hunger in as fast as three months if Russia's invasion of Ukraine lingers, said Wandile Sihlobo, the chief economist of the Agricultural Business Chamber of South Africa.
Read more on the situation here:
CNN's Nimi Princewill contributed reporting to this post.
4 hr 31 min ago
Thousands more Ukrainians pour into Romania, according to Romanian border police
From CNN's Miguel Marquez and Bonney Kapp in Bucharest
A total of 343,515 Ukrainian citizens have entered Romania since the onset of the Russian invasion through Wednesday, of which 258,844 have since proceeded onward to other countries, according to Romanian officials. More than 84,000 Ukrainians currently remain in Romania.
Many of the Ukrainian refugees who remain are in the capital of Bucharest, which has shelters open for others arriving. The city is planning to open its largest indoor public space, Romexpo, to accommodate the influx, the government announced. It can hold up to 2,000 refugees. 
Romania is also trying to expand more permanent housing options for Ukrainians, according to Dr. Raed Arafat, Romania's minister of internal affairs. The government is also organizing large aid shipments to go to Ukraine. 
At the main Bucharest train station, throngs of refugees have been arriving daily. Ukrainians are now getting specific colored cards to direct them either to airports or other borders or elsewhere, to make the process quicker and more streamlined.   
Romanian Border Police have released the latest daily tally on those entering Romania, saying that 69,662 people entered through multiple border points on March 9, of which 23,546 were Ukrainian citizens, which was a decrease of the previous day's numbers.
3 hr 23 min ago
Ukrainian government says about 2,000 people have left eastern city of Izium
From CNN's Tim Lister in Kyiv
Ukraine said that 44 evacuation buses carrying about 2,000 people have left the eastern city of Izium on Thursday.
The evacuees will go to the central city of Dnipro, according to presidential adviser Kirill Timoshenko.
Timoshenko said that humanitarian aid was delivered for those still in Izium, which has suffered extensive damage. 
The city's hospital was damaged by shelling on Tuesday and much of the city is without power and water.
6 hr 17 min ago
Putin and Lukashenko to hold talks in Moscow on Friday
From CNN's Sarah Dean
Russian President Vladimir Putin will meet Belarusian leader Alexander Lukashenko in Moscow on Friday, the Belarusian state news agency Belta reports.
Lukashenko and Putin will discuss topical issues of bilateral relations, the development of cooperation of the Union State of Russia and Belarus, economic cooperation under sanctions pressure, as well as the situation in the region and Ukraine, according to Belta.
Belarus is an ally of Russia and is being used as a launch point for Russian troops into Ukraine.
6 hr 19 min ago
UK "very concerned" about Russia's potential use of chemical weapons, foreign secretary says
From CNN's Amy Cassidy
The United Kingdom is "very concerned" about the potential of Russia using chemical weapons in Ukraine, British Foreign Secretary Liz Truss told CNN on Thursday.  
Truss said it would be a "grave mistake on the part of Russia, adding to the grave mistakes that have already been made by Putin."
Her comments come after the White House warned Wednesday that Russia could use chemical weapons in Ukraine or manufacture a "false flag" operation that uses them. 
"We've seen Russia use these weapons before in fields of conflict," Truss continued, echoing White House press secretary Jen Psaki Wednesday, who noted Russia's "track record" and slammed false claims from Russia that the US is developing chemical weapons in Ukraine.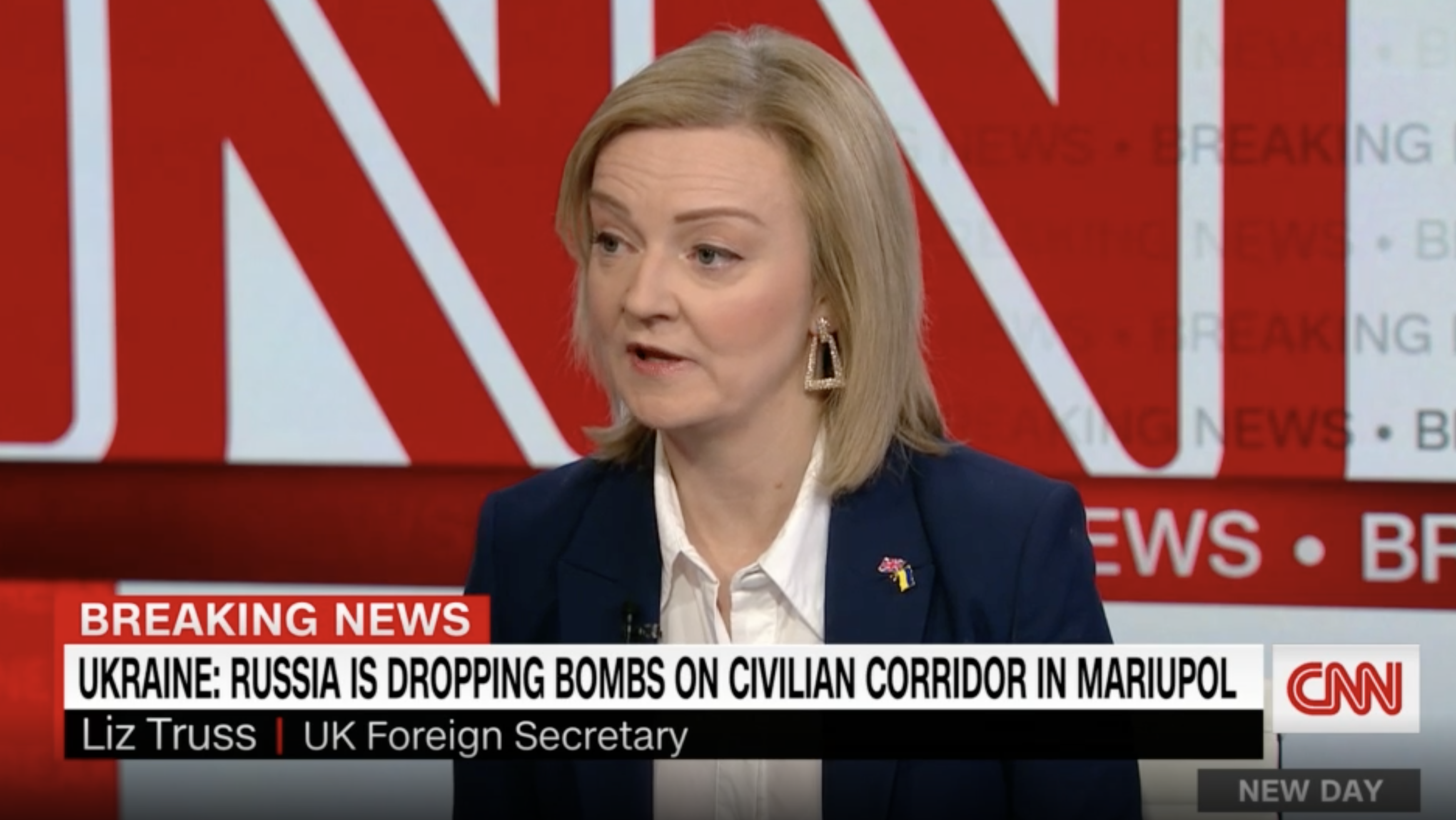 Meanwhile, the UK "absolutely believe[s] there are war crimes being committed" by Russia in Ukraine, Truss said shortly after US Vice President Kamala Harris stopped short of calling the actions "war crimes" during a press conference in Poland Thursday. 
Asked if it would be helpful if the US went further with their language, Truss replied, "we are working with our allies, including the United States, on this issue."
4 hr 58 min ago
US vice president pledges support to Ukrainian refugees in meeting
From CNN's Betsy Klein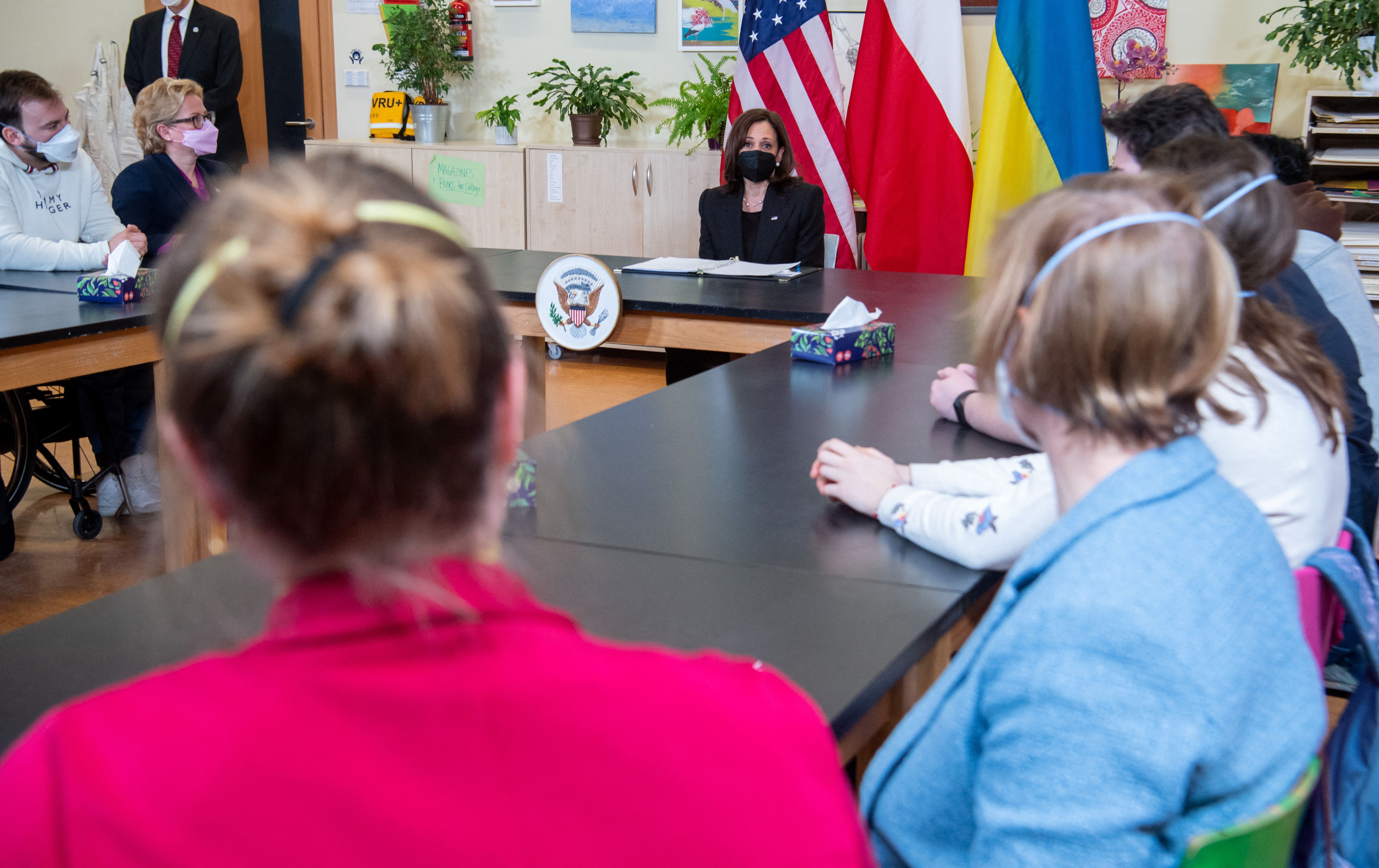 US Vice President Kamala Harris visited with a group of Ukrainian refugees during her trip to Warsaw, Poland, for a discussion about their experiences, saying Thursday that their conversation would help inform how the US can best support those leaving Ukraine.
"The conversation we will have this afternoon will help inform me, the President of the United States and the American people about what you have experienced so that we can best support you and your families," Harris said.
She continued, "You've been through so much. And the people at this table represent over a million people who must be seen, their story must be known, so that we as a community of people around the world can support you." 
Harris met with seven people who have fled Russian aggression from Ukraine, including a Ukrainian advocate for persons with disabilities, a Moroccan university student, a professional film producer from Odessa, a Senegalese community leader and teacher, a LGBTQIA+ rights activist from Kyiv, and a Ukrainian energy expert and her young adult daughter, according to a White House official.
She thanked the group for "your willingness, your courage and your time."
"We are here to support you, and you are not alone … We around the world are watching," she said.
The United Nations estimates that at least two million people have fled Ukraine since the beginning of the Russian invasion on Feb. 24.
The White House is calling the group "displaced persons" instead of "refugees" because some may still desire to return to Ukraine.