1 min ago
City of Slovyansk in eastern Ukraine could be "next pivotal battle" of Russian forces, experts say
From CNN's Alex Stambaugh
Recent advances by Russian forces in Kharkiv could be setting the stage for the eastern Ukrainian city of Slovyansk to become the next target of Russia's offensive, according to a report issued Monday by military experts at the Institute for the Study of War, a Washington-based think tank tracking the conflict. 
"Efforts by Russian forces advancing from Izyum to capture Slovyansk will likely prove to be the next pivotal battle of the war in Ukraine," which could give Russian forces potential paths to cutting off Ukrainian forces in the east and advancing further into the Luhansk and Donetsk regions, the report said. 
"If Russian forces are unable to take Slovyansk at all, Russian frontal assaults in Donbas are unlikely to independently breakthrough Ukrainian defenses and Russia's campaign to capture the entirety of Luhansk and Donetsk oblasts will likely fail," the report said. 
Russian forces withdrawn from the northern Kyiv region are likely a "spent force" and "unlikely to be effective elsewhere," despite efforts to redeploy them, the report said.
Russian efforts to generate reserves and replace officer casualties continue to face serious challenges, it also said, citing the Ukrainian General Staff.
9 min ago
In forceful condemnation, Israel's foreign minister calls Bucha killings "war crimes"
From CNN's Elliott Gotkine
In the country's strongest denunciation yet of Russia's invasion of Ukraine, Israeli Foreign Minister Yair Lapid described the killings in Bucha, on the outskirts of Kyiv, as "war crimes."
"Once again, a large and powerful country has invaded a smaller neighbor without any justification," he tweeted. "Once again, the ground is soaked with the blood of innocent civilians. The images and testimony from Ukraine are horrific. Russian forces committed war crimes against a defenseless civilian population. I strongly condemn these war crimes."
As has been the case since Russia invaded Ukraine on February 24, Lapid's comments — first made while speaking alongside his Greek and Cypriot counterparts — were in marked contrast to those of Israel's Prime Minister, Naftali Bennett. While Bennett also condemned the killings in Bucha, he did not blame Russia. 
"We are shocked by the horrific pictures coming out of Bucha, terrible scenes, and we strongly condemn them," Bennett said after addressing Israeli soldiers in the West Bank. "The images are very harsh. The suffering that the Ukrainian people are facing is huge and we are doing all that we can to help."
Some context: Israel is one of the few countries that maintains good relations with both Moscow and Kyiv. It is particularly wary of upsetting Russia, whose blessing it needs to carry out strikes on Iranian-linked targets in Syria.
On March 5, Bennett flew to Moscow — on the Jewish Sabbath — to meet with Russian President Vladimir Putin. He's since held at least three calls with Putin, and half a dozen with Ukrainian President Volodymyr Zelensky, as Israel attempts to mediate between the two and bring an end to the fighting. 
Yet the country's stance — tacitly supporting international sanctions while providing only humanitarian aid to Ukraine — is coming under increasing pressure. Addressing Israel's Parliament, the Knesset, last month, Zelensky criticized Israel for not doing more to help his country, warning that it would "have to live" with its decisions.
1 hr 53 min ago
Fuel depot destroyed by Russian airstrike in east-central Ukraine, says regional military governor
From CNN's Yulia Kesaieva in Lviv
A fuel depot in east-central Ukraine was destroyed in a Russian airstrike overnight, according to Valentyn Reznichenko, the head of the Dnipropetrovsk regional military administration. 
"The night was difficult," he said on Telegram. "The enemy has attacked our region from air and hit the fuel depot and one of the plants.
"The fuel depot is destroyed. Rescuers have been fighting the fire for over 8 hours. Luckily, there are no casualties."
Some context: Earlier Russian strikes interrupted rail service and sparked a fire Saturday in the Dnipropetrovsk region, and the office of Ukraine's Prosecutor General said a criminal investigation has been opened into the attack.
"The Armed Forces of the Russian Federation, ignoring the norms of international humanitarian law, carried out a rocket attack on a civilian transport railway hub and an open area of the city of Pavlohrad," according to a statement on Telegram from the office. "As a result of the airstrike of the Russian invaders, guided missiles damaged railway tracks and freight cars."
There were no military facilities on the territory of the railway hub, the statement added.
1 hr 45 min ago
Car crashes into gate of Russian embassy in Romanian capital
From CNN's Alex Stambaugh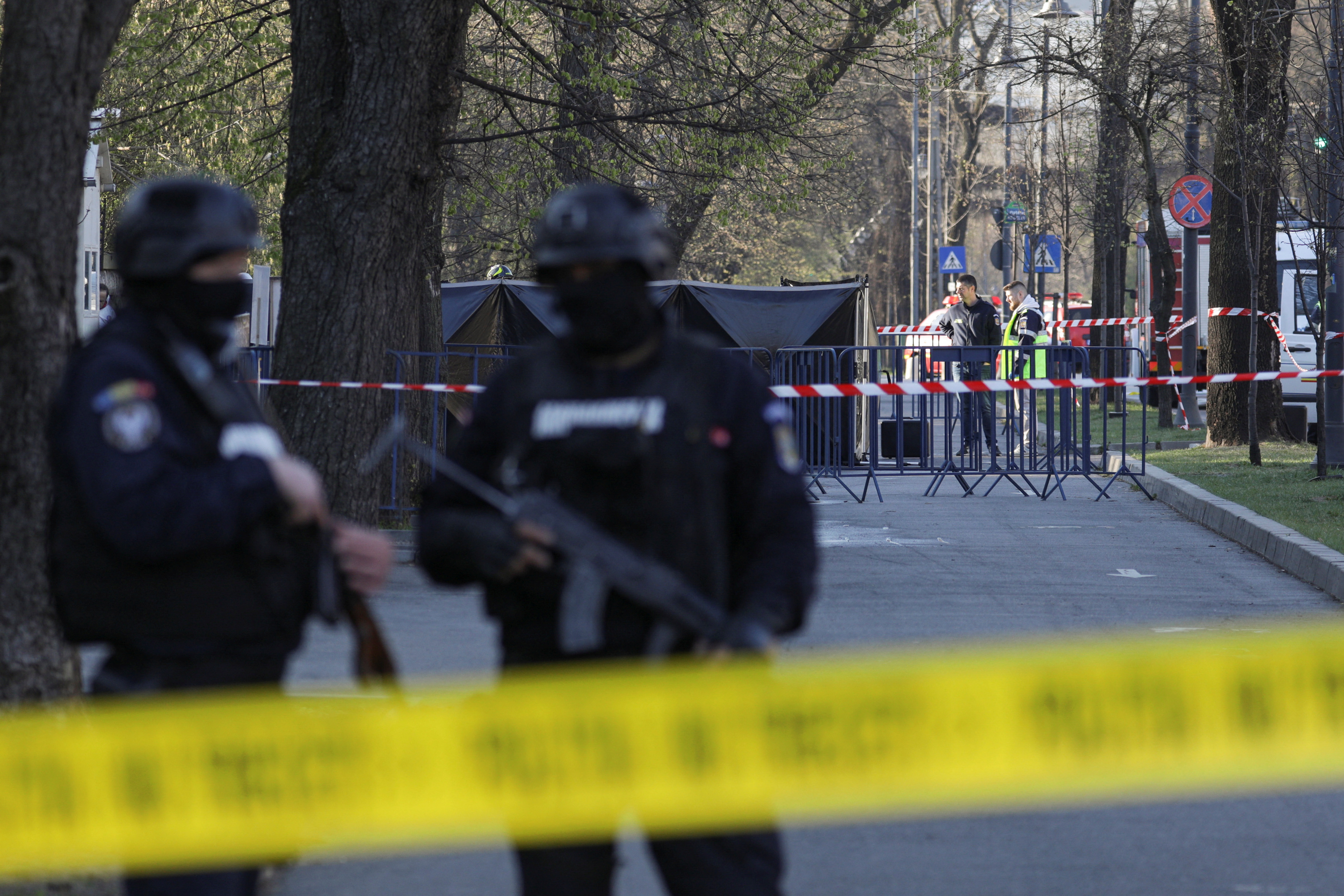 A car crashed into the gate of the Russian Embassy in Bucharest, Romania, on Wednesday morning, according to the Russian state news agency TASS. 
The incident happened around 6:30 a.m. local time, TASS said, citing Radio Romania. According to the radio station, the car subsequently caught fire, TASS reported. 
According to police, the driver has died, the Russian state news agency said.  
Traffic has been restricted on the street where the embassy is located and law enforcement is investigating the causes of the incident, the report added.
2 hr 12 min ago
There's a "worsening" humanitarian situation in Mariupol, UK defense department says
From CNN's Sophie Jeong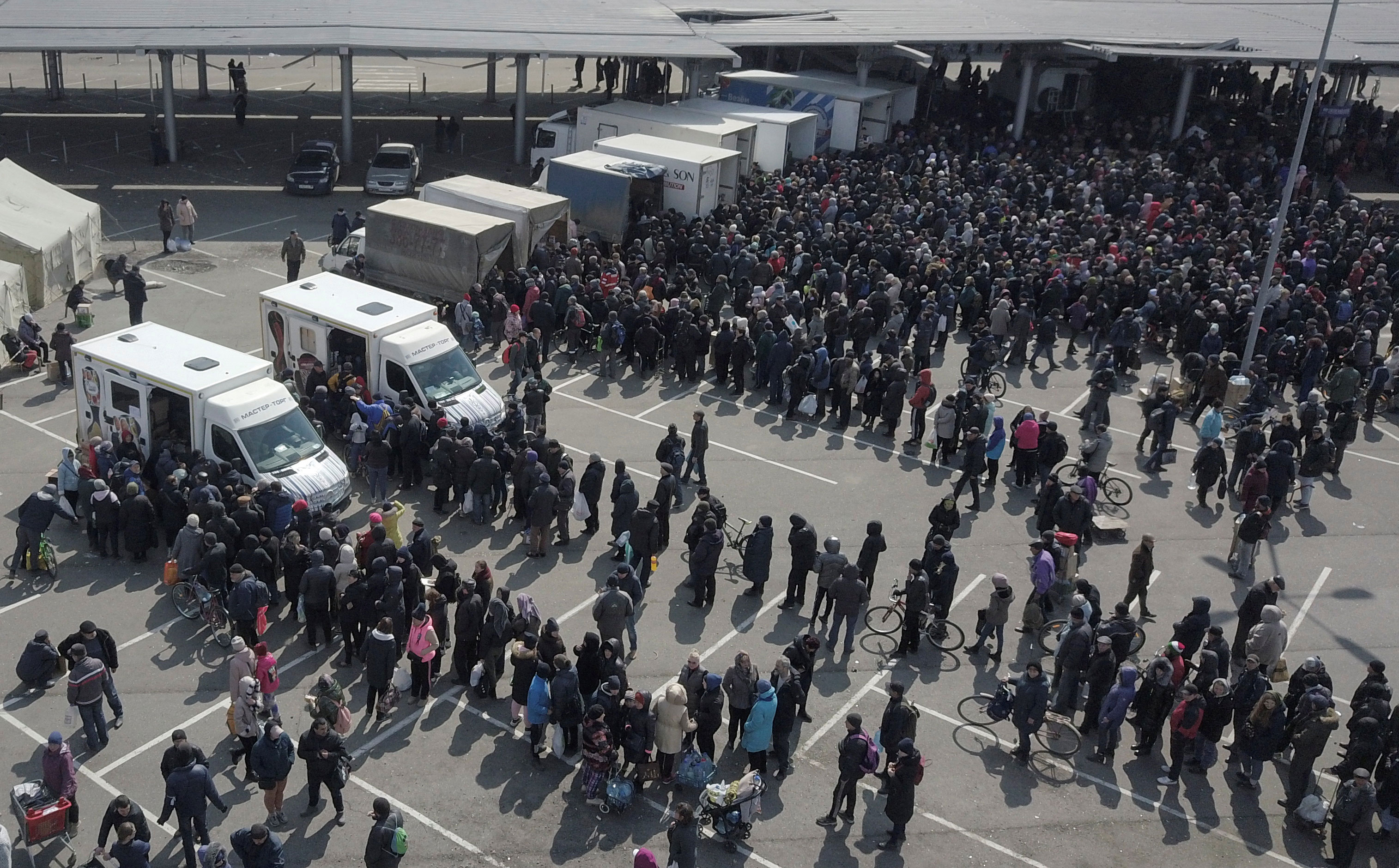 Russian airstrikes and heavy fighting continue in the besieged Ukrainian city of Mariupol, according to an intelligence update from the UK Ministry of Defence issued Wednesday. 
"The humanitarian situation in the city is worsening," the intelligence update said, and "most of the 160,000 residents remaining have no light, communication, medicine, heat or water."
"Russian forces have prevented humanitarian access, likely to pressure defenders to surrender," it added.
Some context: On Monday, Mayor Vadym Boichenko said the southern port city was "on the brink of a humanitarian catastrophe," with more than 100,000 people still requiring evacuation.
Ukrainian officials have consistently decried the Russian military for blocking humanitarian aid and reneging on pledges to allow evacuation corridors for civilians.
An evacuation convoy of seven buses accompanied by the International Committee of the Red Cross was held up Monday in Manhush, a Russian-held town to the west of Mariupol, according to Ukrainian Deputy Prime Minister Iryna Vereshchuk.
3 hr 42 min ago
In its strongest statement yet on Ukraine, India condemns killings in Bucha
From CNN's Manveena Suri and Rhea Mogul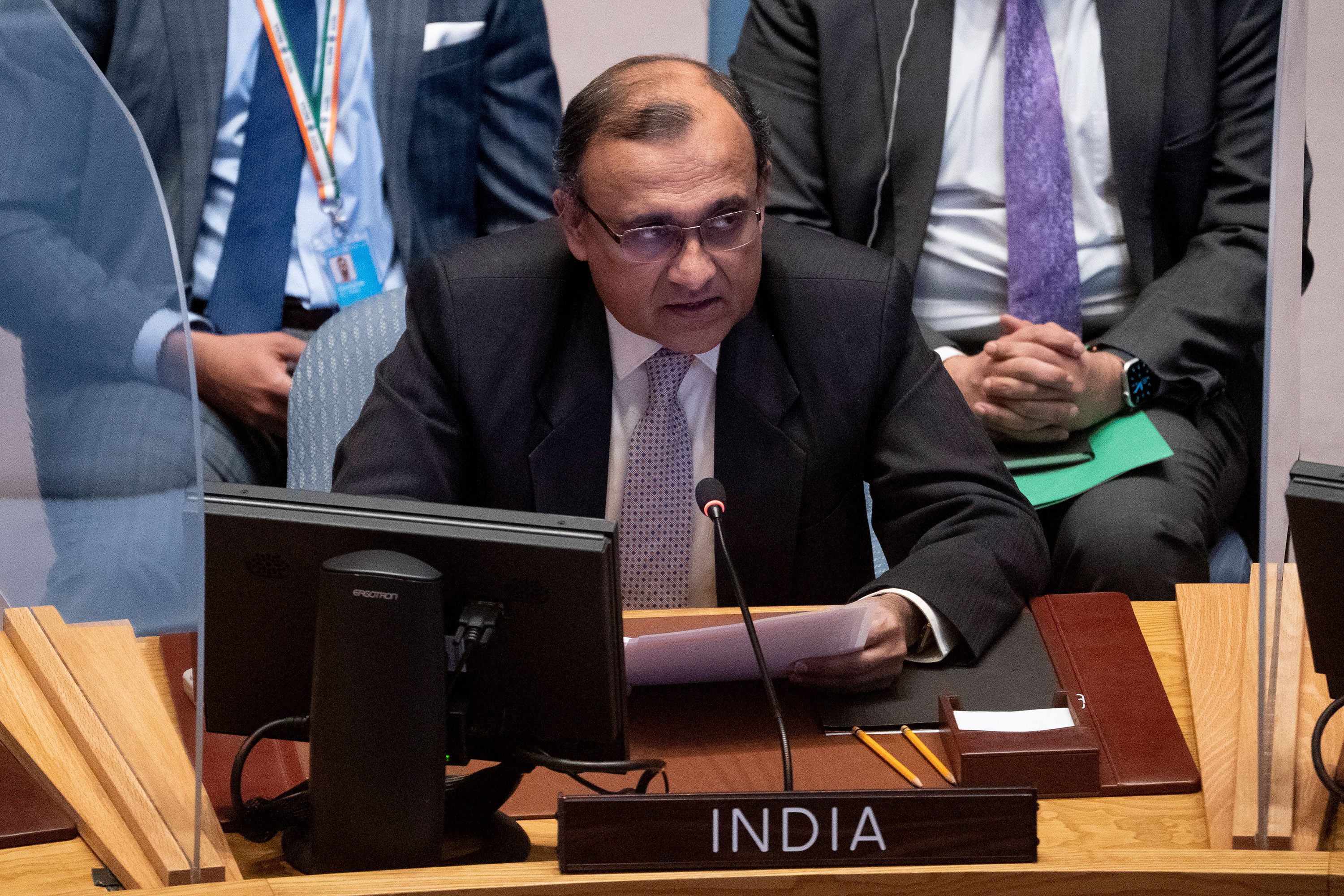 India's ambassador to the United Nations condemned the killings of civilians in the Kyiv suburb of Bucha, marking a noticeable shift in Indian officials' public approach to the invasion of Ukraine by its long-time partner Russia. 
T.S. Tirumurti, India's Permanent Representative to the UN, called reports of the killings "deeply disturbing" during a UN Security Council meeting Tuesday. 
"We unequivocally condemn these killings and support the call for an open investigation," Tirumurti said, without naming Russia. 
"The situation in Ukraine has not shown any significant improvement since the Council last discussed the issue. The situation has only deteriorated, as well as its humanitarian consequences," he said. 
Some context: Previous statements issued by the Indian government have fallen short of condemning Russia's aggression, with Prime Minister Narendra Modi instead appealing for a "cessation of violence."
India has also abstained from various UN resolutions condemning Russia, maintaining that peace talks should be held and the two nations focus on "diplomacy and dialogue."
Criticism from opposition at home: Tirumurti made his statement on the same day as India's opposition Congress Party expressed concerns over the nation's position on the war. 
During a parliamentary discussion on the issue, Shashi Tharoor described India's first UN statement in February as "deplorable." 
"I was shocked, I'll say very honestly, at our first couple of statements at the United Nations … it was not just the abstention," Tharoor said. 
Fellow Congress Party lawmaker Manish Tewari spoke on the evolving geopolitics, saying "this new Iron Curtain has the potential of actually dividing the world," and added that India "may not have the option of being able to sit atop this new Iron Curtain." 
"…Russia has been a trusted friend of India, and it has been a long-standing ally. Russia has come to India's aid in probably our most difficult times … But then Mr. Speaker, sir, friends also have to be told if they are wrong, that they possibly need to get their act together," Tewari said.
Discussion is scheduled to continue Wednesday with India's Minister of External Affairs S. Jaishankar to respond.
4 hr 26 min ago
It's 7 a.m. in Kyiv. Here's what you need to know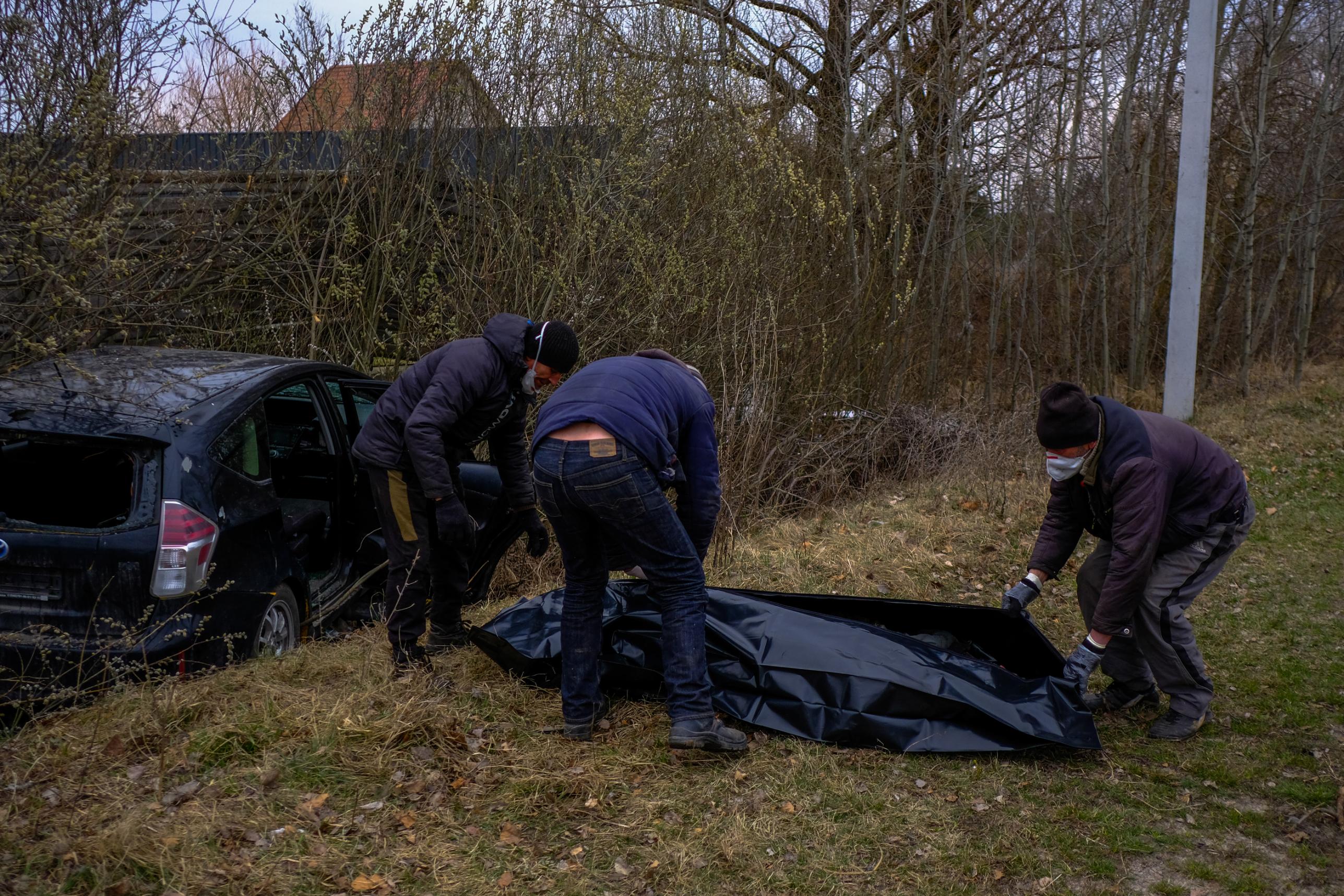 Ukraine's president told the UN Security Council that Russian troops killed for "pleasure," while scenes of devastation from the Russian occupation have emerged from the outskirts of the capital, Kyiv, with bodies of civilians and ransacked homes among the rubble.
Here are the latest developments on the war in Ukraine:
6 hr ago
Zelensky told UN Security Council to remove Russia or "dissolve yourself." Here's what to know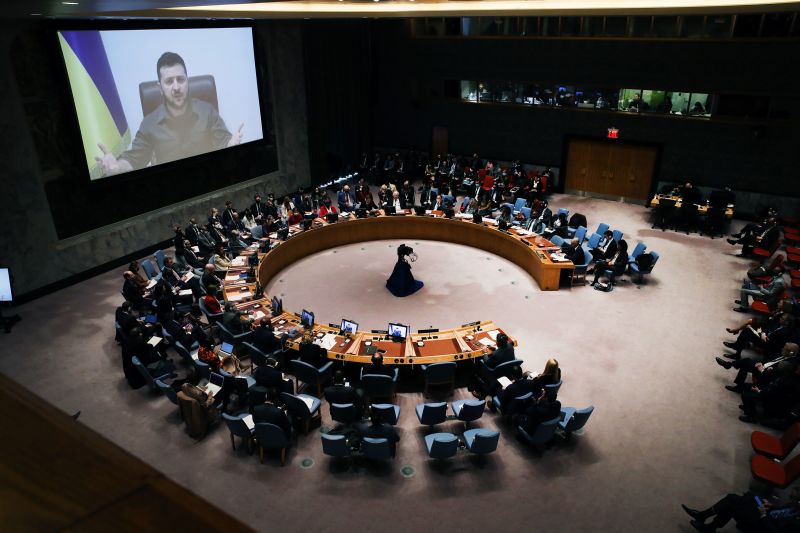 Ukrainian President Volodymyr Zelensky accused Russian troops of indiscriminately killing civilians "just for their pleasure" in an emotionally charged address Tuesday to the United Nations Security Council during which he questioned the very mandate of the Security Council itself.
Here's what to know about his UN speech:
It came a day after he visited the Kyiv suburb of Bucha, where shocking images of bodies in the streets emerged over the weekend.
Zelensky said Russia's actions were no different from those of a terror group, except that Russia is a permanent member of the Security Council.
Russia has veto power at the UN and has previously used that to block a resolution condemning its invasion of Ukraine.
The Ukrainian leader criticized the body, asking representatives point-blank:
"Where is the security that the Security Council needs to guarantee? It is not there, though there is a Security Council."
Zelensky told the UN it should do one of two things:
One was to remove Russia "as an aggressor and a source of war so cannot block decisions about its own aggression, its own war."
The second, "If there is no alternative and no option, then the next option would be dissolve yourself altogether," Zelensky said.
"It is obvious that the key institution of the world designed to combat aggression and ensure peace cannot work effectively," Zelensky said.
In his damning speech, Zelensky said there was "not a single crime" that the Russians "would not commit," alleging Russian troops had "searched for and purposefully killed anyone who served our country."
Zelensky also warned that the horrors found in Bucha would be replicated in other cities across Ukraine and demanded accountability.
The president also demanded full and transparent investigations and security guarantees for Ukraine.
Read more on Zelensky's UN speech here.
7 hr 27 min ago
The US is expected to announce new sanctions against Russia Wednesday. Here's what we know
From CNN's Phil Mattingly, Kaitlan Collins, Sam Fossum and Sean Lyngaas
The US will announce new sanctions on Russia Wednesday in coordination with Group of Seven nations and the European Union, according to an administration official.
The official said the sweeping package "will impose significant costs on Russia and send it further down the road of economic, financial, and technological isolation."
The new sanctions package will:
Ban all new investment in Russia
Increase sanctions on financial institutions and state-owned enterprises in Russia
Sanction Russian government officials and their family members
The new sanctions package will mark the latest escalation in efforts by the US and its allies to impose costs on Russia for its invasion and, over time, cut off critical economic sectors the country utilizes to wage the ongoing war.
They also follow new revelations of further atrocities committed by Russian forces in northern Ukraine, with the images of the atrocities committed in Bucha serving as an accelerator to ongoing discussions between the US and its European allies to ramp up the economic costs, officials said.
"These measures will degrade key instruments of Russian state power, impose acute and immediate economic harm on Russia, and hold accountable the Russian kleptocracy that funds and supports Putin's war," the official said. "These measures will be taken in lockstep with our allies and partners, demonstrating our resolve and unity in imposing unprecedented costs on Russia for its war against Ukraine."
The official added, "We had already concluded that Russia committed war crimes in Ukraine, and the information from Bucha appears to show further evidence of war crimes. And as the President said, we will work with the world to ensure there is full accountability for these crimes. One of those tools is sanctions — and we have been working intensively with our European allies on further sanctions."
More context: The expected sanctions come after the US Treasury announced it will no longer allow Russia to pay down its debt using dollars stockpiled at American banks. While Washington had imposed sanctions on the Russian Central Bank freezing their foreign currency at US banks, the Treasury Department had previously allowed Russia to use those reserves to repay its debt.
It's a move that officials say will substantially raise the risk of default and undercut urgent efforts by the central bank to stanch the economic bleeding that immediately arrested the Russian economy in the wake of the Western response to the invasion.
Read more about the sanctions here and watch CNN's reporting below: