1 min ago
EU will sanction Putin and Lavrov, German foreign minister says
From CNN's Nadine Schmidt in Berlin and Niamh Kennedy
The European Union will sanction Russian President Vladimir Putin and Russian Foreign Minister Sergey Lavrov, German Foreign Minister Annalena Baerbock said Friday.
"We now also list the President of the Republic Mr. Putin and the Minister of Foreign Affairs Mr. Lavrov," Baerbock told reporters on her way into the EU Foreign Affairs Council in Brussels on Friday. 
"They are responsible for the fact that innocent people die in Ukraine, they are responsible for the fact that the international system is trampled upon and we as Europeans do not accept that."
On Thursday, the EU announced a raft of sanctions against Russia which European Commission chief Ursula Von der Leyen said would increase Russia's borrowing costs, raise inflation and "gradually erode Russia's industrial base."
7 min ago
How Ukraine's military compares to Russia's force
From CNN's Angela Dewan
Heavily armed Russian troops are pushing rapidly toward Ukraine's capital of Kyiv, and US officials are warning the city could fall within days.
The military capabilities of these two nations are so imbalanced that Ukraine's President Volodymyr Zelensky implored his Western allies overnight to do more than impose sanctions to get Russian troops off Ukrainian soil.
Here's how the two country's military capabilities stack up.
Defense spending
Just a look at the amount of money the two nations spend on defense gives an indication of the gap between the two. Ukraine spent $4.7 billion in 2021, just over a tenth of nuclear-armed Russia's $45.8 billion, according to "The Military Balance" report by the International Institute for Strategic Studies (IISS), published last week.
While the Russian government launched a drive in 2008 to modernize its military, after a brief war with Georgia laid bare equipment shortfalls, Ukraine's weapons are still largely from the Soviet era. In its ambitions to join NATO, however, Ukraine has reorganized the structure of its armed forces, and has plans to re-equip its air force with Western combat aircraft by the mid-2030s. It also plans to improve its naval capability.
Manpower
Where Russia has 900,000 active personnel in its armed forces, and 2 million in reserve, Ukraine has 196,000 and 900,000 reservists. Ukraine on Wednesday began conscripting reservists aged 18-60, according to IISS.
In land forces alone, Russia has a twofold advantage, with 280,000 troops to Ukraine's 125,600. And its air force is nearly five times as strong, with 165,000 to Ukraine's 35,000.
But in terms of how many troops are in this particular operation, Yohann Michel, a research analyst who worked on the IISS report, said Russia had an estimated 200,000 personnel in and around Ukraine.
"That's including around 60 battle groups. The situation is evolving rapidly and that number could change, but it's very large, and that's important. It's one of the largest in eastern Europe that we've seen in years — in my lifetime," Michel told CNN.
"Ukrainian numbers are more difficult because everything they have is now mobilized and they have called in reservists."
Read more here.
18 min ago
Heavy fighting reported on main route south into Kyiv
From CNN's Tim Lister in Kyiv
There are reports of heavy fighting between Russian and Ukrainian forces around the city of Chernihiv, some 105 kilometers (about 65 miles) north of the capital of Kyiv.
Video from the city showed the regional headquarters of the Security Service of Ukraine on fire. A witness contacted by CNN said it was still burning late Friday.
The Russian defense ministry has acknowledged fighting in the area, saying Russian forces "have completed the blockade of the city of Chernihiv," essentially cutting it off.
Ukraine says its forces inflicted heavy losses on Russian columns around Chernihiv, destroying more than thirty tanks.
Earlier Friday, the chief of Ukraine's armed forces, Valerii Zaluzhnyi, said the Ukrainian military had managed to hold the defense and repel the breakthrough of Russian troops in Chernihiv.
Chernihiv is on the main route from Belarus to Kyiv.
The Russian ground assault targeting the Ukrainian capital is developing from three directions.
Two are northern routes from Belarus, but the Ukrainians say they have slowed the Russian advance from the north-west after destroying a bridge at Ivankiv.  
Another group of Russian armor has attacked Sumy in the northeast, which is also on a main road to Kyiv.  
21 min ago
Russian troops are eyeing Kyiv. This map shows the major moves from both sides
As Russian troops advance, US intelligence officials are concerned that the Ukrainian capital of Kyiv could fall under Russian control within days, according to two sources familiar with the latest intelligence.
Officials believe Russia has been facing stiffer resistance from Ukrainian forces than it anticipated, according to the sources. Ukrainian officials have vowed to resist any occupation.
Here are some of the major moments leading to this point: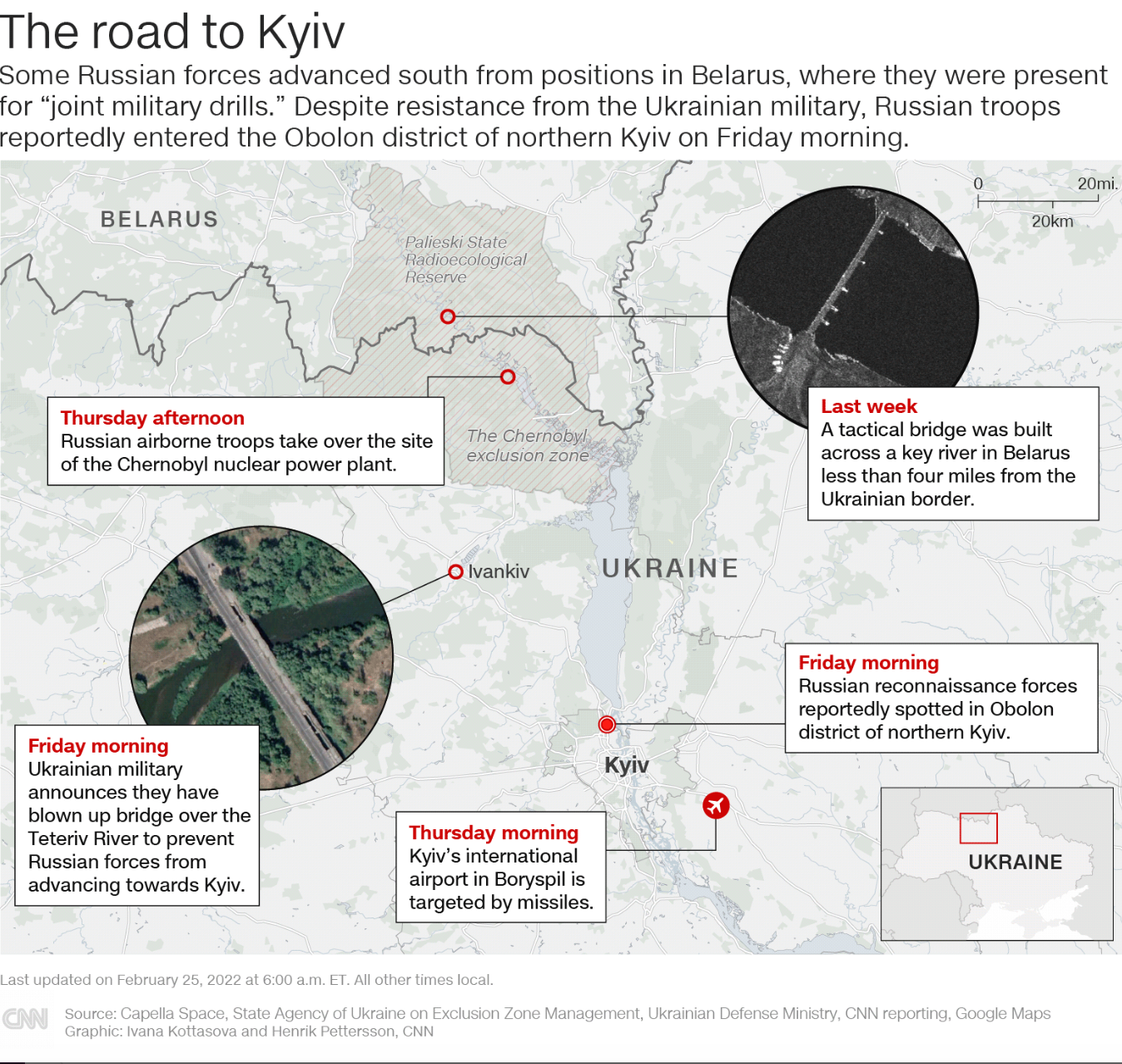 22 min ago
France will provide defensive equipment to Ukraine
From CNN's Joseph Ataman, Camille Knight and Anaelle Jonah in Paris
France will provide defensive equipment to Ukraine, French President Emmanuel Macron said in a written speech to the country's two legislative bodies Friday. The speech did not detail what the equipment would be.
Macron wrote that France will provide Ukraine with a "additional budgetary assistance of 300 million euros" and "will provide the defensive material they need."
France has not previously provided arms to Ukraine but has provided humanitarian aid and budgetary support.
Ukrainian President Volodymyr Zelensky has appealed for citizens to take up arms against Russian troops and have been distributing guns and ammunition to reservists.
24 min ago
Ukraine is "considering the proposal" to hold talks with Russian delegation, Zelensky adviser tells CNN
From CNN's Anna Chernova, Vasco Cotovio and Nathan Hodge in Moscow and Katharina Krebs in Kyiv
Kremlin spokesperson Dmitry Peskov said Russia is ready to send a delegation to Minsk, the capital of Belarus, for talks with Ukraine, Russian state news agency RIA-Novosti reported, which Ukraine said it is "considering."
"As you know, today the President of Ukraine [Volodymyr] Zelensky announced his readiness to discuss the neutral status of Ukraine," Peskov said, according to RIA. "Initially, Russian President Vladimir Putin said that the purpose of the operation was to help the LPR and the DPR [Donetsk and Luhansk People's Republics, separatist statelets in eastern Ukraine recently recognized by Russia as independent], including through the demilitarization and denazification of Ukraine. And this, in fact, is an integral component of neutral status." 
Putin has called for the "denazification" of Ukraine, language that has been roundly condemned internationally, especially considering that Zelensky is Jewish. 
Ukrainian presidential adviser Oleksiy Arestovych told CNN on Friday that the Ukrainian government is "considering the proposal" to hold talks with the Russian delegation in Minsk. 
In a separate video message issued soon after noon on Friday, Zelensky called for direct talks with Putin. 
This comes with Ukraine under significant pressure, as Russian forces appear to be closing in on Kyiv. They have entered the Obolon district in the north of the city, just a few miles from its center, according to the Ukrainian defense ministry.
Zelensky has not directly proposed neutral status but has signaled a willingness to discuss it, while insisting his country be provided security guarantees. 
In a video message Thursday, Zelensky said: "Today we heard from Moscow what they want to talk. They want to talk about Ukraine's neutral status. I asked all the partners of the state if they are with us. They are with us, but they are not ready to take us into an alliance with them." 
"We are not afraid to talk with Russia, we are not afraid to talk about everything, about security guarantees for our country. We are not afraid to talk about neutral status," Zelensky added.
54 min ago
Here's what the SWIFT banking system is and why some world leaders are considering removing Russia from it
From CNN's Charles Riley
European Union leaders have been considering what some are calling the "nuclear option" of removing Russia from SWIFT, a high security network that connect thousands of financial institutions around the world, following the invasion of Ukraine.
US President Joe Biden said Thursday that removing Russia from SWIFT is not the direction the rest of Europe wants to go in at this moment, but noted that taking the nation out of the network is "always an option."
"The sanctions that we've proposed on all their banks are of equal consequence, maybe more consequence than SWIFT," Biden said, referring to the latest round of sanctions he announced today.
The Foreign Minister of Ukraine Dmytro Kuleba on Thursday urged the West to ban Russia from SWIFT in a tweet. Earlier on Thursday, CNN reported that the EU was undecided as to whether to cut Russia off from SWIFT and that EU nations were split over the decision.
But what is SWIFT, and what could it mean for Russia? The Society for Worldwide Interbank Financial Telecommunication was founded in 1973 to replace the telex and is now used by over 11,000 financial institutions to send secure messages and payment orders. With no globally accepted alternative, it is essential plumbing for global finance.
Removing Russia from SWIFT would make it nearly impossible for financial institutions to send money in or out of the country, delivering a sudden shock to Russian companies and their foreign customers — especially buyers of oil and gas exports denominated in US dollars.
"The cutoff would terminate all international transactions, trigger currency volatility, and cause massive capital outflows," Maria Shagina, a visiting fellow at the Finnish Institute of International Affairs, wrote in a paper last year for Carnegie Moscow Center. Excluding Russia from SWIFT would cause its economy to shrink by 5%, former finance minister Alexei Kudrin estimated in 2014.
SWIFT is based in Belgium and governed by a board consisting of 25 people, including Eddie Astanin, chairman of the management board at Russia's Central Counterparty Clearing Centre. SWIFT, which describes itself as a "neutral utility," is incorporated under Belgian law and must comply with EU regulations.
What happens if Russia is removed? There is precedent for removing a country from SWIFT.
SWIFT unplugged Iranian banks in 2012 after they were sanctioned by the European Union over the country's nuclear program. Iran lost almost half of its oil export revenue and 30% of foreign trade following the disconnection, according to Shagina.
"SWIFT is a neutral global cooperative set up and operated for the collective benefit of its community," the organization said in a statement in January. "Any decision to impose sanctions on countries or individual entities rests solely with the competent government bodies and applicable legislators," it added.
It's not clear how much support there is among US allies for taking similar action against Russia. The United States and Germany have the most to lose if Russia is disconnected, because their banks are the most frequent SWIFT users to communicate with Russian banks, according to Shagina.
The European Central Bank has warned lenders with significant exposure to Russia to prepare for sanctions against Moscow, according to the Financial Times. ECB officials have also asked banks how they would respond to scenarios including a move to prevent Russian banks accessing SWIFT.
Read more about SWIFT here.
CNN's Kate Sullivan in Washington, DC, Niamh Kennedy in London and James Frater in Lviv contributed reporting to this post.
23 min ago
Turkey says it cannot stop the passage of warships through its straits following request from Ukraine
From Isil Sariyuce in Istanbul and Celine Alkhaldi in Abu Dhabi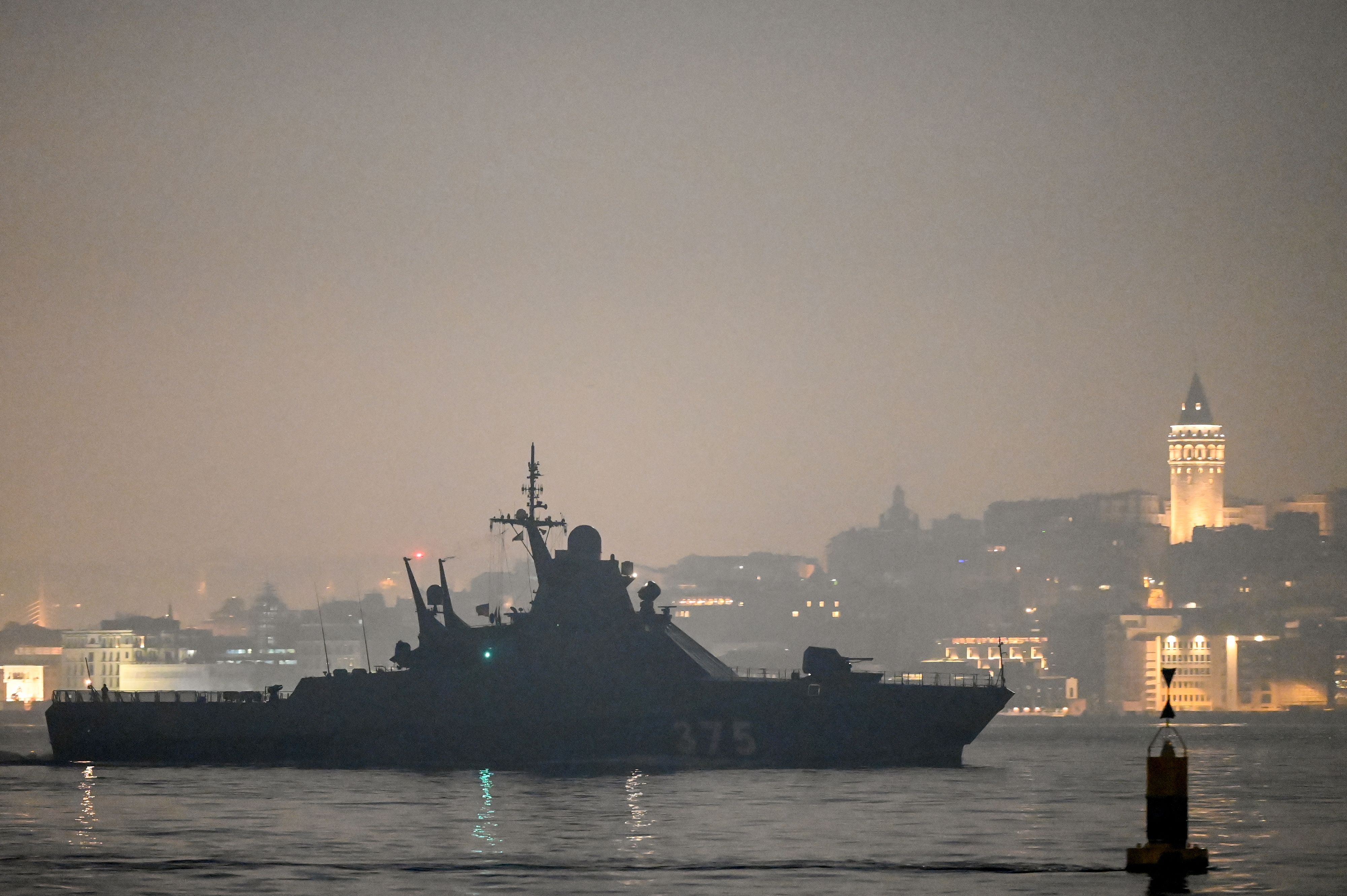 Turkey cannot stop the passage of warships through its straits leading to the Black Sea as Ukraine has requested, Turkish Foreign Minister Mevlüt Çavuşoğlu told the Turkish Hurriyet newspaper on Friday, referencing a clause in the Montreux Convention that allows vessels to return to their home base.
Ukraine appealed to Turkey to block Russian warships from passing through the Dardanelles and Bosphorus straits. Çavuşoğlu said that Turkey is limited in its ability to do so.
"In the case of a war where Turkey is not a party, there are measures that can be taken regarding the countries that are parties in the war," he said.
"If there is a demand for the ships of the warring countries to return to their bases, then it must be allowed," he added, referring to Russia. 
"Russia had its own clause put in [to the Montreux Convention]. Articles 19, 20 and 21 stipulate that if the ship of a country that is on the Black Sea wishes to pass with a request to return to its base, this is allowed," Çavuşoğlu said.
More background: The Montreux Convention, signed in 1936, gives Turkey control over the passage of vessels through those two key straits. In peacetime, civilian vessels can pass freely, although there are certain restrictions on the passage of ships not belonging to Black Sea countries. 
Black Sea nations — which, along with Turkey, Russia, and Ukraine — also include Bulgaria, Georgia and Romania. 
Warships can navigate through the straits during peacetime, but under conditions that restrict aggregate tonnage depending on if they are or are not a Black Sea country and limits the duration of stay in the Black Sea for non-Black Sea nations. There are also limitations on the caliber of weapons they can carry, and Turkey needs to be notified of the request.
1 hr 17 min ago
US Embassy in Kyiv again calls on Americans to leave immediately
From CNN's Jennifer Hansler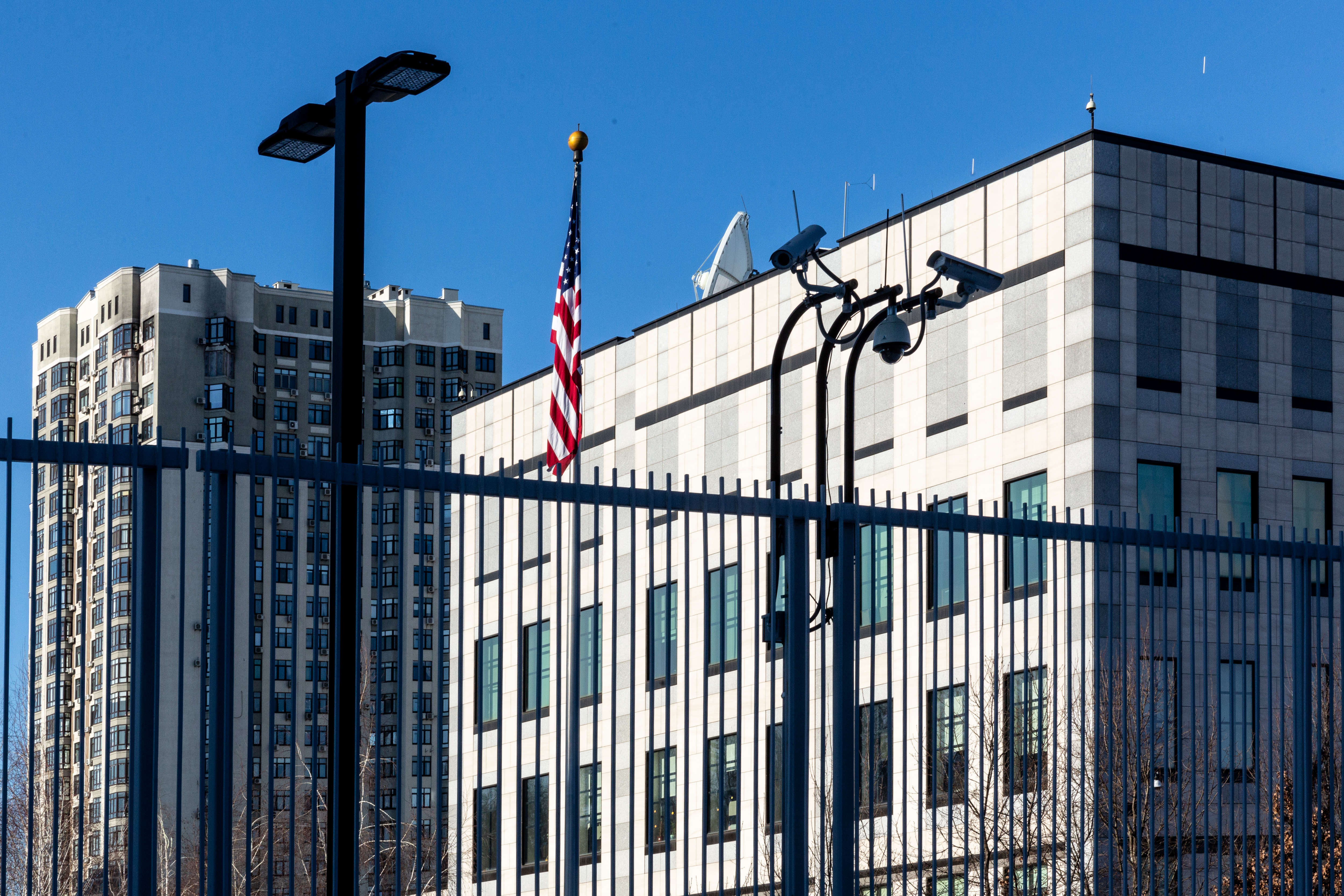 In a security alert posted overnight, the US Embassy in Kyiv again called on US citizens in Ukraine to "depart immediately if it is safe to do so using any commercial or other privately available ground transportation options," and said those who remain "should exercise increased caution due to the potential for active combat, crime, and civil unrest."
"U.S. citizens remaining in Ukraine should carefully monitor government notices and local and international media outlets for information about changing security conditions and alerts to shelter in place," the alert said.
It called the security situation in Ukraine "highly volatile," warning that "conditions may deteriorate without warning," and noted that "on February 24, Russia's forces attacked major Ukrainian cities, and the Ukrainian government closed its airspace to commercial flights due to Russia's military actions."
"Know the location of your closest shelter or protected space. In the event of mortar and/or rocket fire, follow the instructions from local authorities and seek shelter immediately," the alert said.
There is no longer a diplomatic presence inside Ukraine. The small group of diplomats who had remained have been relocated from Lviv to Poland.