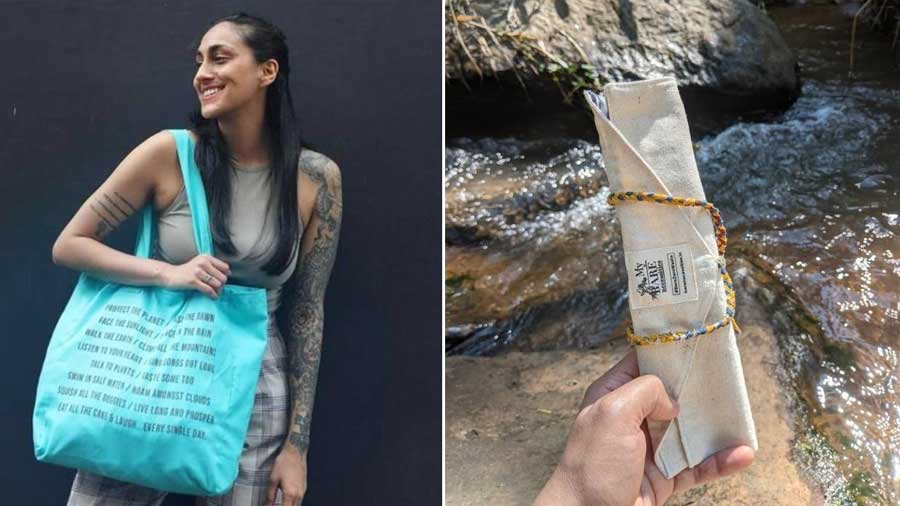 (L) author Karuna Ezara Parikh carries a reusable tote by The Burlap People X Brown Living; (R) a travel cutlery pouch by Bare Necessities
A nature-loving travel experience entails a waste-free approach. Eco-conscious travel is all about minimising your footprint on the places you go, so that the environment around you is not affected by your presence. Avoiding plastics and toxic disposables is crucial, while packing light can actually reduce fuel use and associated emissions. Reducing food waste and picking eco-sensitive accommodations also helps. So, if you're planning a conscious, zero-waste vacation, consider having these items in your bag:
Clothing
Shopping for pre-owned fashion or thrift pieces is a great way to reduce your overall carbon footprint if you need to shop for travel.
A capsule wardrobe can also help you become a more conscious traveller. It's a limited selection of essential clothing that can be easily paired with one another like classic cuts or neutral layers. So, you can pack less and reduce your overall emissions footprint whether you're travelling by train, plane or car. Here are some labels you can go for:
Poshmark
Kolkatans are steadily warming up to pre-owned clothing. Poshmark, the beloved platform for second-hand fashion, launched in India this year and it works as a social and sustainable marketplace. Several Indian fashion influencers have listed their personal collections up for sale and buyers can engage with sellers or make their own offers for purchases.
"As an Indian who grew up exploring the marketplaces of Old Delhi, I know firsthand how important it is to come together and connect as part of the shopping experience. The market opportunity is massive and growing as people increasingly turn to e-commerce while seeking a more socially connected and sustainable experience," says Manish Chandra, the founder of Poshmark.
Arte-Alter
Try handlooms if you want to travel light. Kolkata label Arte-Alter's Lasya line features ethnic picks in handspun khadi and Tussar with contemporary jamdani techniques. Their empire line tunics and drop shoulder kaftan tunics are easy to layer with moody outerwear.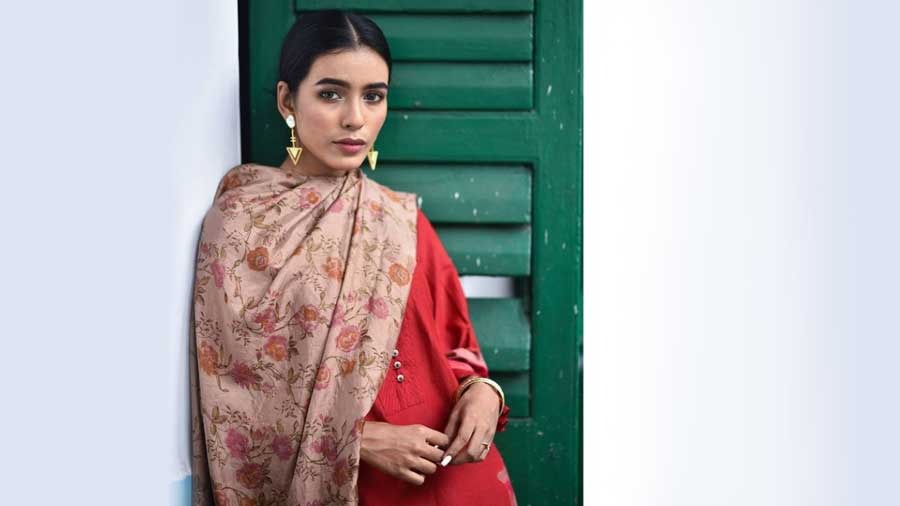 A handwoven red kurta by Arte-Alter
Beachbum
If you're packing for a beach vacation, explore Beachbum's capsule edit of easy monochrome numbers that are extremely easy to recycle and re-style. The After Eight line has tie-knot shirts, asymmetrical houses, flared jumpsuits, frock coats, harem pants and even some beachy accessories, all in black and white.
145 East
Packing light can be difficult when you have to carry dressy outfits. Consider quirky 'gamcha' numbers from 145 East, that can fit into almost any fashion memo if styled right. The label's Ghera Skirt series has versatile skirts that can be paired with anything from bikinis and shirts to denim and leather jackets. The smartest winter buys would be 'gamcha' boyfriend shirts, 'kotki' hoodies and reversible wrap tops.
Beauty/Toiletries
Reducing packaging waste is the key to packing a eco-conscious beauty bag for travel. So, try opting for biodegradable beauty packaging or refillable bottles. Single-use supplies can make your luggage lighter, so if you're going for travel-size products make sure the packaging is eco-friendly. Here are some great brands you can consider:
Juice Beauty
Karen Behnke's clean beauty label Juice Beauty just made its foray into the country this year. The label does not use any parabens, petroleum, pesticides, silicones or any other artificial dyes, and only uses botanical juice bases and vitamin-rich ingredients.
"We pride ourselves in our special 'Farm To Beauty' initiative that is not only aimed at enhancing the powerful antioxidants, but also limiting pesticide and synthetic fertiliser residue in beauty products. We have successfully estimated the avoidance of three tons of pesticides in the past decade," Behnke shared. All packaging in Juice Beauty products is made of recyclable glass and FSC paper that come from sustainably harvested forests.
Fabpad
Shripriya Khaitan Dhelia and Upasana Todi Prakash's Kolkata start-up Fabpad is creating leak-proof period panties and other eco-friendly alternatives for menstruation. Their period underwear is reusable and an environment-friendly alternative to sanitary pads that don't usually decompose.
Forest Essentials 
Aerosol deodorants contain gas propellants that contribute to air pollution and climate change, so a natural deodorant is ideal for travel. Forest Essentials only uses natural ingredients and eco-friendly packaging made of recyclable PET, glass and biodegradable cartons made of FSC certified paper. Their Sweet Orange & Cardamom deodorant has citrusy, sweet and spicy notes, and does not disrupt the natural perspiration process.
Earth Rhythm
Shampoo bars are the travel hack that can save your unpredictable vacation hair. One bar can be used for several washes and they're transit-friendly since they can't spill like shampoos. Earth Rhythm's murumuru shampoo bar especially is great for travel since it offers efficient frizz control and the bars come in reusable tin boxes.
Luggage/ Tech gear/ Miscellaneous
If you're packing for a work trip, explore versatile tech luggage that can also double-up as a carry-all. Another great hack is to buy one pouch or holder for all your chargers and adapters or buying easy, zero-waste starter kits for stationery.
Brown Living
Brown Living's plastic-free, 30-litre duffel is made of water-resistant canvas and has a shoe compartment, front and side pocket and can also accommodate extra mounts and hooks to fit a sleeping bag or mat. If you're looking to carry just one bag, let this be it.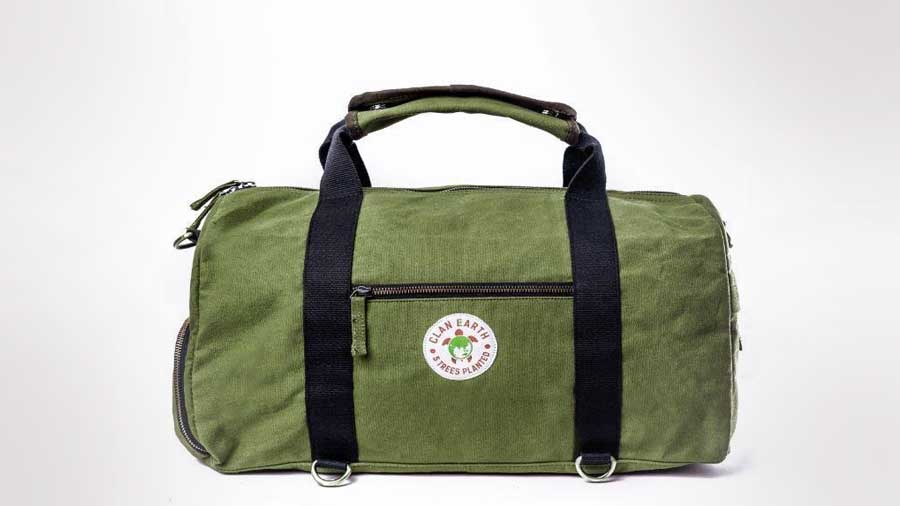 The Rhino duffel by Brown Living
The June Shop
Pack some wheat straw cutlery with you to avoid using plastic. They're made of agricultural waste and require less water to clean. It's entirely bio-degradable and microwave-safe and this set by The June Shop is also very compact.
Wheat straw cutlery set by The June Shop
Bare Necessities
Sustainable label Bare Necessities offers several zero-waste starter kits that are great for travellers. There are also upcycled cutlery pouches and kitchen kits that could be useful for homestay experiences.
Amala Earth
If you're packing for a weekend trip, invest in an eco-friendly travel box by Amala Earth that has all the essentials — from paper pen and straws to bamboo hand towels and cutlery etc. It's entirely plastic-free and the travel bag should fit right into a suitcase or roller.