Newly-hired Brigham Young University basketball assistant coaches Chris Burgess, Cody Fueger and Nick Robinson, left to right, speak at a press conference at the Marriott Center Annex in Provo, April 25, 2019. Burgess will head to his alma mater Utah as one of Craig Smith's newest assistants, sources confirmed to KSL.com Wednesday. (Spenser Heaps, Deseret News)
Estimated read time: 6-7 minutes
PROVO — By all accounts, the University of Utah hit a home run when it pulled spirited alumnus Chris Burgess away from archrival BYU to become Craig Smith's newest assistant coach on the Hill.
Burgess has been BYU coach Mark Pope's right-hand man since he was one of the first phone calls he made upon accepting the head coaching job at Utah Valley University in 2015. The two have been virtually inseparable since then, with Burgess particularly strong on the recruiting trail and in the development of Pope's bigs both at UVU and BYU.
Under Burgess' tutelage, Akolda Manyang earned Western Athletic Conference All-Defensive Team honors in 2018 and Wyatt Lowell was named WAC Freshman of the Year a year later in 2019 before both followed Pope to Provo (following a bout with injuries, Lowell has since transferred again to Snow College, where he earned All-Region 18 honors while leading the Badgers to the NJCAA national tournament in Hutchinson, Kansas).
At BYU, Burgess anchored the development of Richard Harward, Gavin Baxter, Fousseyni Traore and Atiki Ally Atiki, among others such as single-season mercenary Matt Haarms from Purdue, who won West Coast Conference Defensive Player of the Year in his lone season with the Cougars.
Now he'll take all of that up the road to Utah, a homecoming of a different sorts for the former professional basketball player who was born in Provo and grew up in California.
"I don't think it's a lateral move. Utah's his alma mater, so it's not lateral for him — and I guarantee you the pay is not lateral," noted national college basketball writer Matt Norlander to ESPN radio in Utah County. "I think BYU-Utah on a national scale, is probably the most underappreciated, truly vicious rivalry.
"But that's a great get for humongous Prince fan Craig Smith."
The former Duke forward who went to a Final Four and national championship before playing two years at Utah under legendary coach Rick Majerus now finds himself recruiting against his old schools, where he played a key role in recruiting Dallin Hall, Caleb Lohner, Traore and Atiki to the Cougars' locker room. Under Burgess' mentorship, Traore and Atiki both blossomed as freshmen — not to mention relative newcomers to the sport of basketball — after moving to North America from Mali and Tanzania, respectively.
"This is what I'm talking about! (Burgess) is a great hire for us for a ton of reasons basketball-related," tweeted former Utah basketball standout Nick Jacob after the news broke. "He was a great teammate and he's a bridge to some of us old guys and he can connect with all the young talent we need."
With the move, Smith's opening in his coaching staff now transfers to Pope, who currently has longtime assistant (and Utah graduate) Cody Fueger and Nick Robinson on his staff. Where does the nine-year NBA player and soon-to-be fourth-year BYU coach go to fill out the group?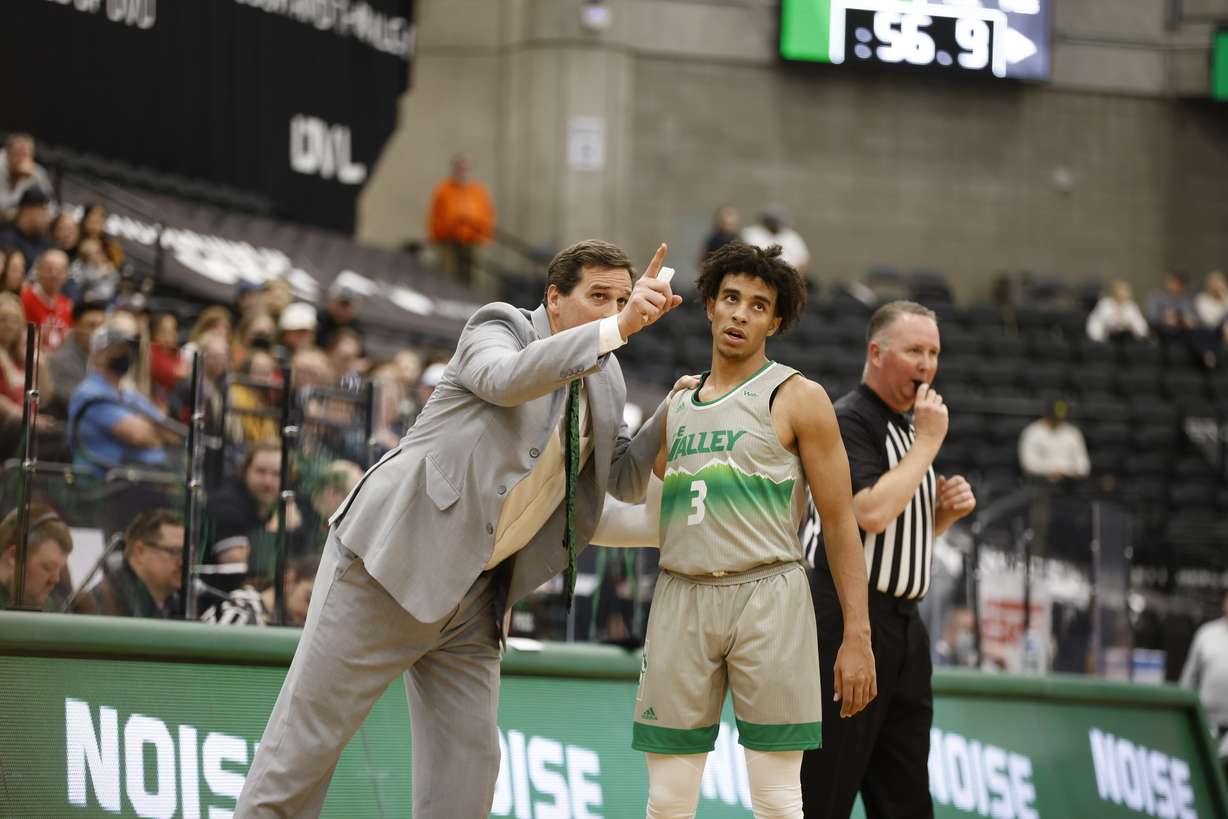 The first speculation started just five miles down University Parkway, to Pope's replacement at Utah Valley: Mark Madsen. The 6-foot-8, 10-year NBA veteran took over for Pope and has led the Wolverines to a 42-42 record in three seasons, including a 24-22 mark in WAC play and a 72-65 win over the Cougars in December.
Like Burgess (and Pope), Madsen is also a member of The Church of Jesus Christ of Latter-day Saints (he served a mission in Malaga, Spain), and he's already earned a reputation for developing post players — including the nation's leading rebounder Fardaws Aimaq, who tested the NBA draft waters a year ago before returning to Utah Valley.
But that's where the natural fit stops. Pope didn't necessarily leave the cupboards extensively stocked for Madsen — a first-time collegiate head coach — upon his exit in Orem, taking four transfers with him. Madsen recovered well, recently signing a four-year contract extension with the Wolverines through 2026, and earning an upgrade to his previous salary of $225,000.
The former Lakers legend (mostly for his dancing, but sometimes for his play) nicknamed "Mad Dog" doesn't need the money, though. Sources close to the situation told KSL.com that Madsen wants to be a Division I head coach, and he's been incredibly happy in Orem, where his wife Hannah's parents live and the couple is raising two sons, both under the age of 3.
Another oft-referenced option is Barret Peery. The Payson native who played at College of Southern Idaho and Southern Utah has been a collegiate coach since he was a graduate assistant with his alma mater in Cedar City in 1995. He's also coached at Utah Valley, for three years at Utah from 2008-11, and was a head coach at Portland State from 2017-21 before taking a job on Mark Adams' staff at Texas Tech.
Peery is now the associate head coach in Lubbock; and while being a Division I head coach is still his ultimate ambition, he was also reportedly a candidate for the BYU job when Pope took over, prior to his time with the Red Raiders. Would he be willing to leave it to come back home and coach at BYU where he has no connections other than his faith?
Maybe Pope could look to former assistants of his mentor Dave Rose in Provo. Dave Rice was a longtime assistant under Rose, joining his staff in 2005 and being named associate head coach in April 2008. He was even named acting head coach while Rose underwent treatment for pancreatic cancer in 2009, before ultimately leaving the program to take over as head coach of his alma mater at UNLV in 2011.
Rice, who is not a member of BYU's sponsoring faith, is currently out of a job after leaving Washington last year. The 52-year-old assistant was the second casualty of the Mike Hopkins era in Seattle and has been out of a job since. Would he accept an opportunity to return to Provo?
Wasatch Academy head coach Paul Peterson has also found his name tossed about as a candidate for Pope's staff. The former Tigers assistant and BYU-Hawaii alumnus just led the in-state power into the first year of the NIBC, a consortium of high school and prep basketball powerhouses that play a national schedule against each other from coast-to-coast.
Peterson, who lives in Utah County and commutes to Mount Pleasant, also owns a basketball development business and was a key mentor in the overall development and recruiting of Lohner, Traore and soon-to-be returned missionary Richie Saunders, who has signed with BYU.
Viewed as a rising star in the coaching world, is now the right time for Peterson to jump to a college job?
×
Related Stories
Sean Walker graduated from Syracuse University and returned to his home state to work for KSL.com covering BYU, prep sports and anything else his editors assign him to do. When he's not covering a game, he's usually listening to Broadway soundtracks or hiking with his dog.
More stories you may be interested in